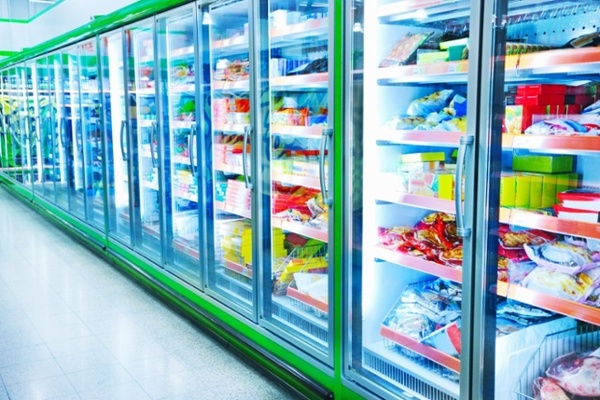 It's no secret the commercial HVAC and refrigeration industries are on the rise. Forecasters predict the global HVAC and refrigeration market will swell from $561 billion to $764 billion by 2026.
The collective push from consumers and governments toward energy efficiency is a huge driving force behind this predicted growth.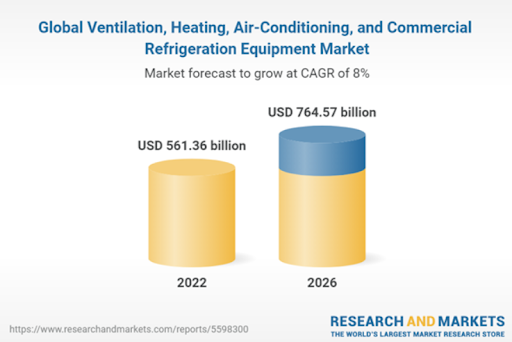 In the HVAC industry, new construction and developments are contributing to the pace. According to Research and Markets:
"The increasing focus on environmental sustainability and green energy is pushing up the requirement for HVAC systems and services. In addition to this, the increasing construction and infrastructural development activities in the country are fueling the market advancement."
In commercial refrigeration, Research and Markets reports consumer habits are leading growth:
"The major growth drivers for this market are rapid growth in the organized retail sector, increasing demand for packaged food and beverages, rise in international food trade, and varying food consumption patterns to boost the sales of commercial refrigeration equipment."
As your industry grows, it's important you source your commercial HVAC and refrigeration materials from a manufacturer committed to quality, efficiency, and insight.
Between global market expansion and stressed supply chains, there's bound to be a lot of competition for refrigeration, heating, and cooling parts. Getting ahead of your rivals and finding a roll forming partner will be good for your business. Let's explore why:
Metal Roll Forming HVAC & Refrigeration Materials
You're going to need a lot of long, slender, metal parts. Producing them is a roll former's specialty.
So, what is roll forming, exactly? This process involves heavy machinery that gradually bends flat sheet metal into a long, uniform profile by passing the material through a series of roll dies.
A highly repeatable process, roll forming allows engineers and designers to create customized HVAC and refrigeration components. Once the tooling is in place, roll forming produces components more consistently than other metal shaping processes, even over long runs.
Whether the parts you need are decorative or structural, a roll forming manufacturer can make them. Roll forming is the most economical process for creating:
Angles
Channels (U, C, J, box, hat)
Parts with complex, cross-sectional shapes
Parts with intricate hole patterns
Parts with continuous lengths of 20+ ft.
Hole punching, bending, and cutting to length can easily fit into one uninterrupted process rather than separate steps, making roll forming cost-effective and productive.
Commercial HVAC and Refrigeration Parts Perfect for Roll Forming
Exactly which heating and cooling parts and refrigeration components benefit from roll forming?
Commercial HVAC Parts
Several interior and exterior structural parts of HVAC systems are roll formed. Roll forming produces:
Air conditioner cases
Cooling tower louvers
Dampers
Ducts
Electric heater housings
Filter frame units
Structural components and handrails for industrial chiller units
Even the tubing that's part of the refrigerant exchanger in an HVAC system is made of roll formed copper.
Commercial Refrigeration Parts
Meanwhile, roll forming is a huge part of the commercial refrigeration industry. Frames for meat, dairy, and produce refrigeration units are roll formed, as well as:
Insulated shelving structures
Kick plates
Protective sills
Stainless steel handrails
Textured decorative paneling
Whether you're using stainless steel parts for framing or pre-painted aluminum sheets for decoration, roll forming produces a clean and attractive finish.
Bonus: Expanding adhesive foam needs to stick to the roll formed walls that encase the insulated frames of refrigeration units.
If your roll former offers powder coating, it can send your parts through the cleaning system of its powder coat line.
The parts are then tested using the dyne system. This is a special series of inks applied to surfaces to determine cleanliness. As they increase in level, their adhesion abilities increase. The higher the dyne level, the cleaner the part is.
Roll Forming Advantages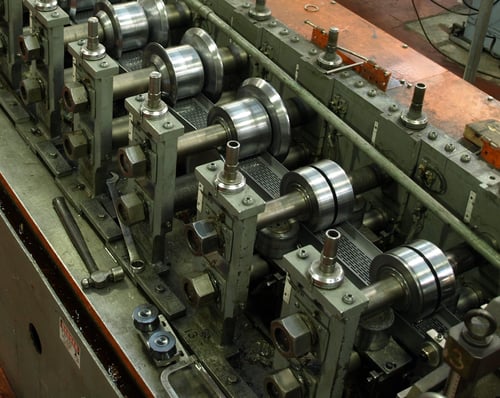 Roll forming has many advantages over other metal shaping methods. Original equipment manufacturers (OEMs) often turn to custom roll forming corporations for their ability to both form high-strength metals and work with:
In-line features
Complex profiles with intricate bending
Tight, repeatable tolerances
Less Is More
When working with a roll former, less is more, as in:
Less tool maintenance – Because they produce parts and features in a continuous motion, there's less strain on tooling.


Less human error – Almost everything is automated, requiring less labor and reducing chances for mistakes.


Less scrap – In roll forming, scrap is typically 1-3% of your overall cost. That's especially significant when you're working with expensive materials.
Quality Is Key
Perhaps the biggest advantage of roll forming commercial HVAC and refrigeration parts is its consistency. Roll formed parts are consistently uniform across runs.
Roll forming machines also easily and precisely form high-strength steels while accommodating for springback distortion.
It's also great for aesthetic projects where tool marks from other types of forming aren't acceptable.
Learn more about the anatomy of a roll forming line and the complete roll forming process:
Find a Reliable Roll Forming Partner
Many of the perks of roll forming are more about the processes certain roll formers adhere to, and not just the parts they produce. Look for a reliable partner with these capabilities:
Product inventory – A "trigger-response" system is a highly-efficient way to control inventory.
Raw material inventory – The right roll former won't hoard materials inventory, keeping your costs as close to market as possible.
Quarterly reviews

Customer feedback
Inventory levels
Raw materials prices
On-time delivery
Low defect rate
Clean and organized facility
Regular safety training & inspections
Paid by skill – A good roll former knows they're only as strong as their skilled labor force. The more skills a worker has, the more they get paid – meaning they're highly invested in the quality of their work.
Cross-trained – Having multiple skilled machinists means work doesn't stop because one person gets sick. The whole team works together to produce your parts.
When you partner with a roll former providing all these services, you know they're working to optimize the entire sourcing process.
Learn More: Commercial HVAC and Refrigeration Roll Forming Services & Capabilities
Need to know more about the roll forming process and how it can benefit the commercial HVAC and refrigeration industries? Download our free guide, "Why Roll Forming?"
Topics: OEM Roll Forming, HVAC, Commercial Refrigeration
RELATED POSTS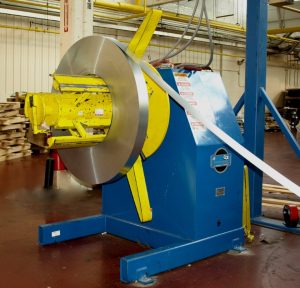 Roll forming is a metal fabrication process that involves the bending of metal strips to create a certain shape or design. It's one of the most simple and easy-to-understand metal forming processes there is; however, there are several components that go along with it.
Once you learn about these[...]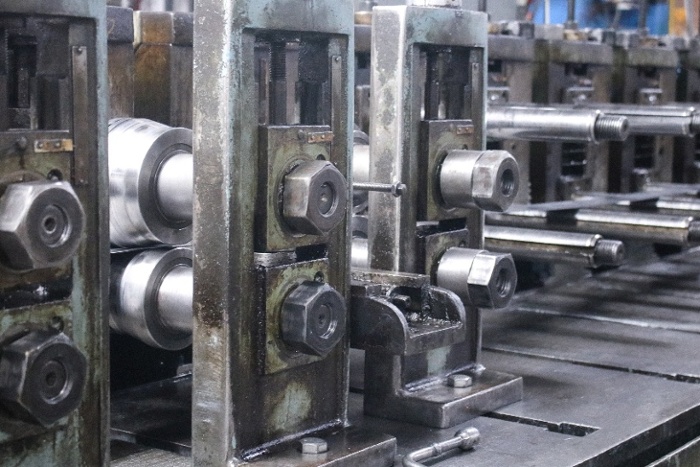 In the world of roll forming, controlling tolerance is the balance roll formers constantly navigate; it's a subtle art and a complex science – similar to pitching in baseball.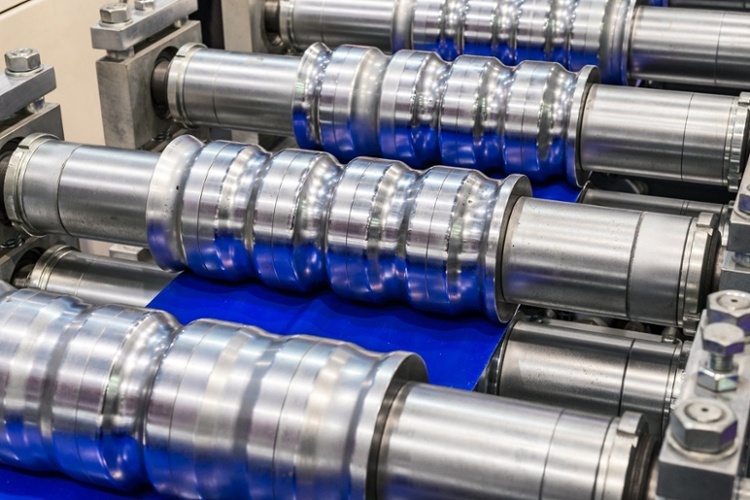 Durability. Flexibility. Cost-effectiveness. Adaptability for a variety of industrial and commercial applications. You've probably wondered at some point how hot forming and cold forming compare in when it comes to forming metal.