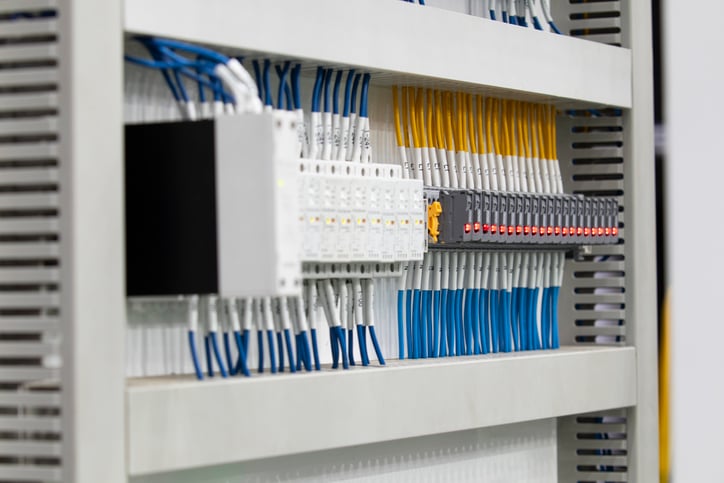 The U.S. power distribution sector is under a storm cloud.
You're seeing inflation and rising fuel costs. Extreme weather is testing grid reliability. Supply issues continue to plague everyone.
Meanwhile there's a silver lining – a promise of growth as aging equipment needs to be replaced and demand for electric-powered goods and vehicles increases. Innovation and investments are on the horizon as legislators pass laws supporting clean, affordable energy initiatives.
Roll forming is an important process in the power distribution industry, as it efficiently produces high-quality electrical distribution equipment components.
By working with roll forming companies for their parts needs, power distribution companies can see a number of benefits.
What Is Roll Forming?
Roll forming involves heavy machinery that gradually bends coiled flat sheet metal into a long, uniform profile by passing it through a series of mated roll dies.
This process is useful for producing parts with complex shapes and intricate details, as well as multiple bends.
Designing these elements into your custom power distribution parts eliminates slow and expensive secondary operations. In doing so, roll forming lowers production costs and significantly slashes lead times. (Skip to that section)
See behind the scenes at a roll forming line:
Roll Formed Power Distribution System Components
Power distribution systems can be designed as highly proprietary and may require thousands of feet of metal components per project. Custom roll formed parts can create custom conductor-to-terminal designs that offer quick rearrangement and flexibility. Roll forming can be used effectively in both current-carrying and non-current-carrying equipment.
Current-Carrying Equipment
Because copper and aluminum have low resistivity, they're preferred for current-carrying equipment. Copper and aluminum are also good metals for roll forming. Parts include:
Bus bar systems (copper electrical conductors)
Track lighting conductors (copper)
Trolley line conductors (copper, aluminum)
Other Power Distribution Equipment
Roll forming machines can handle bare or prepainted steel. Most roll forming corporations also offer finishing options, such as industrial powder coating, for your parts.
A few of the non-current-carrying parts great for roll forming include:
Cable trays
Surface wire raceways
Network server racking systems
Electrical enclosure components, racking
Bus bar housings
Lighting housings
Radiant heating housings and covers
Roll Forming's Advantages
Power distribution original equipment manufacturers (OEMs) rely on roll forming partners for:
Unique forming features
Cost efficiency
Inventory management
Forming Features
While there are many ways to manufacture power distribution metal components, roll forming offers many advantages over traditional manufacturing processes. In particular, it excels at:
Channels (U, C, J, box, hat)
Parts with complex, cross-sectional shapes
Parts with intricate hole patterns
Parts with continuous lengths of 20+ ft.
At no extra production cost, roll forming also allows the inclusion of in-line punching features like:
Holes
Notches
Slots
Embossments
Roll forming produces complex profiles with intricate bending and a wide range of cross-sections cut to any length.
The parts are high-precision – roll forming allows repeatable tolerances up to +/- 0.005" on some profile segments. Overall part lengths can be accurate up to +/- 0.020".
Component length is limited only by the amount of material in the coil.
Cost Efficiency
Roll forming is a preferred manufacturing method in many industries for its cost efficiency. Factors determining roll forming cost include:
Setup time – varies based on the complexity of the shape, which relates directly to the number of forming stations required for tool setup/take down.
Run speed – the faster the roll forming machine runs, the cheaper your components. Speed depends on part complexity and length (longer parts run quicker since the flying cutoff is not a run speed constraint)
Raw materials – can be anywhere from 40-80% of the final cost
Thankfully roll forming produces little scrap -- on average, only 0.5% to 3% – so power distribution OEMs see significant cost savings on materials.
Other roll forming cost-efficiencies are the result of:
Little tool maintenance – producing features in a continuous rotating motion reduces tool wear
The ability to form high-strength, low-alloy (HSLA) steel – cheaper than alternative manufacturing methods like hot stamping
Less human error – unlike other

metal forming processes

, roll forming requires less human labor
Order flexibility – depending on your part design, volumes as low as 10,000 to 20,000 linear ft. per year can be cost-effective.
Inventory Management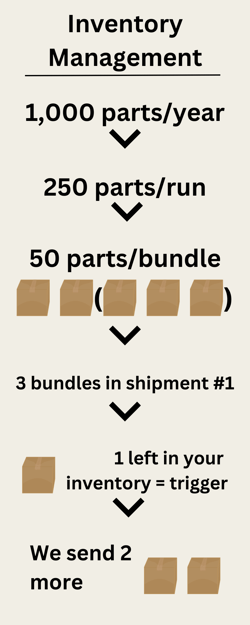 The best roll formers practice lean inventory management to limit waste and reduce cost – and a major component of that is Kanban.
The Kanban method of inventory management aims to provide the right amount of inventory in the right place at the right time.
It requires in-depth analysis to understand how much inventory to hold at a given time, when to replenish inventory, and how much to replenish. The amount of inventory should match and meet customer demand without overproduction.
For instance, if your company needs 1,000 parts per year, your Kanban-practicing roll form partner might decide to produce 250 parts per run.
They'll ship you three bundles with 50 parts in each. When your system sends a "trigger" that you have one bundle left in your inventory, your roll forming partner will send two bundles so your inventory is back to three.
This eliminates excess inventory, one of the seven wastes in lean manufacturing. Inventory ties up:
Manpower
Money
Energy
Equipment
Space
Reducing excess inventory frees up your resources to make your process more efficient.
Ask if your roll former can also provide economic order quantity (EOQ) runs. These allow for inventory to be held by the roll former and distributed to you when needed. Economic runs maximize volume and reduce setup time per part, ensuring you don't run dry. Your roll former may also discount large orders in exchange for a long-term contract.
Partnering With a Roll Forming Company
Roll forming is an ideal process for power distribution parts due to its cost-effectiveness and efficient inventory management.
With the ability to form complex shapes with intricate details, as well as continuous lengths of 20+ feet, it's no wonder why many companies in the industry rely on this method for their production needs.
The advantages that come from working with a high-quality roll forming partner are numerous and should be taken into consideration when sourcing your electrical distribution components.
By investing in a reliable roll forming supplier who understands lean manufacturing principles, you can reduce waste while ensuring timely delivery of accurate and sturdy power distribution parts – all at a lower cost than other metal fabrication methods.
Ready to Learn More?
Learn more about the benefits, drawbacks, and applications for roll forming, and how it stacks up against competing metal manufacturing processes. Check out our "Why Roll Forming?" guide:
Topics: OEM Roll Forming
RELATED POSTS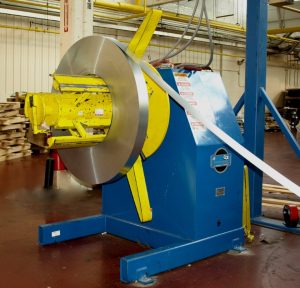 Roll forming is a metal fabrication process that involves the bending of metal strips to create a certain shape or design. It's one of the most simple and easy-to-understand metal forming processes there is; however, there are several components that go along with it.
Once you learn about these[...]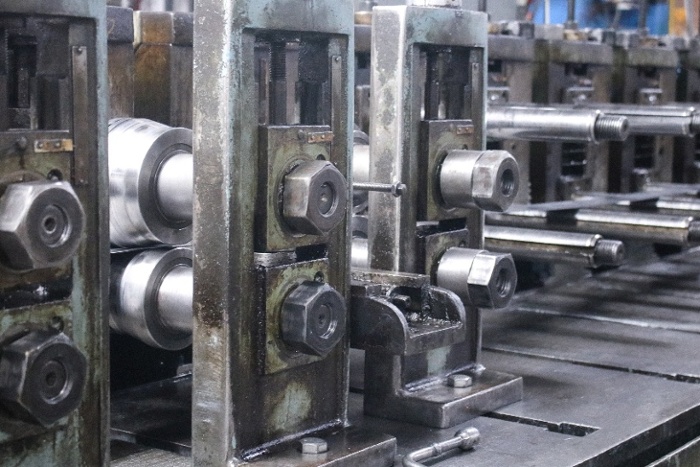 In the world of roll forming, controlling tolerance is the balance roll formers constantly navigate; it's a subtle art and a complex science – similar to pitching in baseball.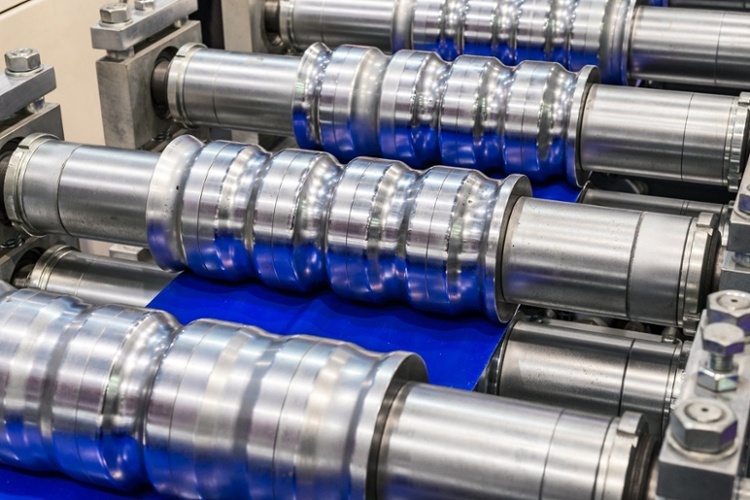 Durability. Flexibility. Cost-effectiveness. Adaptability for a variety of industrial and commercial applications. You've probably wondered at some point how hot forming and cold forming compare in when it comes to forming metal.