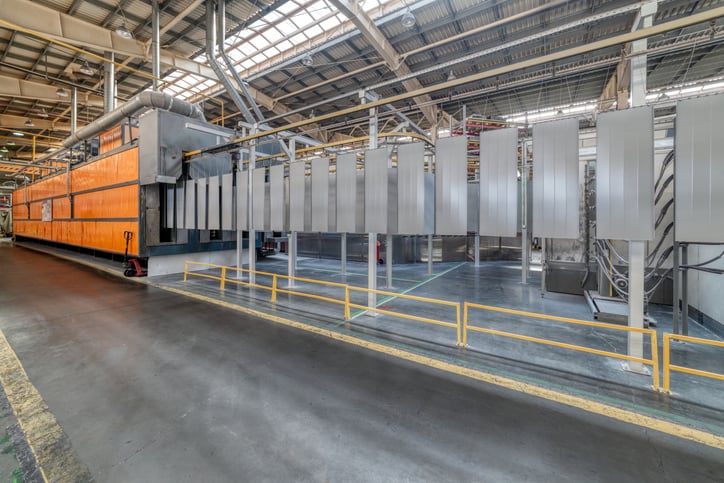 Are you looking for a thick, durable, environmentally compliant, affordable, efficient, and functional finish for your formed metal parts? And you want it to look good, too?
That seems like an impossibly long list of requirements to meet. Luckily, there's a finish for your manufacturing needs – powder coating components can give them all of the above.
Let's dive into what it is, how it works, and how it fits into a roll formed part's production process.
Powder Coating Components 101
What is powder coating? A hard finish more durable than paint, it's an industrial finishing option for a variety of pieces, from auto parts to retail shelving to door frames and furniture components.
Exploring the basics of powder coating, we'll look at:
The powder coat process
Powder coating advantages
Popular powder coated parts
The Industrial Powder Coat Process
Just as with any finishing process, there are certain steps to follow for powder coating:
Medium preparation
Parts preparation
Coating the parts
Curing the finish
Medium Preparation
Powder coating first starts with the powder itself. A polymer resin, typically polyester, polyurethane, epoxy or acrylic, is heated, mixed with pigment and hardeners, then cooled and ground into fine particles.
Depending on the temperature and humidity-controlled storage conditions, most powders have a shelf life of at least 1 year.
There are also different formulas based on the coating method (see Coating Parts) and the end-use of the part. Remember to notify your manufacturer whether your assembly is intended for indoor or outdoor use and needs to be UV resistant.
Parts Preparation
Arguably the most important step in any finishing process is to properly prepare the part to be coated (or painted).
Parts need to be clean and dry for the finish to adhere properly.
When looking for a powder coating provider, ask how they prepare parts for the powder coating process.
Make sure they are thoroughly cleaning and drying parts before coating them, since any debris left on a part will affect adhesion of the powder coat. Poor surface prep negates all the time and energy spent further down the line to coat and cure the part.
Coating the Parts
There are several methods to coat metal parts: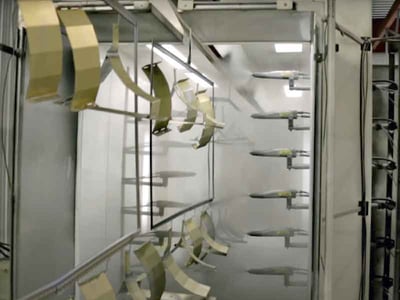 Electrostatic spray deposition (ESD)
Fluidized bed
Electrostatic fluidized bed (a hybrid of the two)
In ESD, the most common application process, a vacuum action or spray gun sprays the powder, imparting a positive charge as it dispenses it onto a grounded (negatively charged) part and forming a bond. It's easy to remember – just like the name says, electrostatic spray deposition is "sprayed" on.
Some powder coating providers using ESD will do their jobs in a batch booth, manually spraying pieces to contain the powder. Others, especially those with high-volume orders, use a conveyor system outfitted with "wagglers" to spray the parts.
Ask your suppliers of powder-coated parts which spray method they're using. If their system is automated with wagglers, are they staffing the line with someone to check and spray parts in missed spots?
With the fluidized bed method, parts are first heated and then dipped into a bed of fluidized UV-cured powder coating (see Curing the Finish). The heated parts melt the powder coating, and the particles adhere to the parts.
The electrostatic fluidized bed process combines the two methods, sending a positive charge through a bed of powder, creating a cloud of particles over the bed. Then a grounded part is sent through the cloud to be coated. These parts can be heated before coating, or sent through "cold" and the powder coating used can be either thermoset or UV-cured based on the intended curing process.
Curing the Finish
Based on the coating method and powder type used, there are different ways to cure powder coated parts.
With ESD coating, parts need to be heated in a powder curing oven, typically to 375°F for about 10 minutes, depending on the parts' thickness. A lot like cookies, the thicker they are, the longer they need to bake in order to reach the proper internal temperature.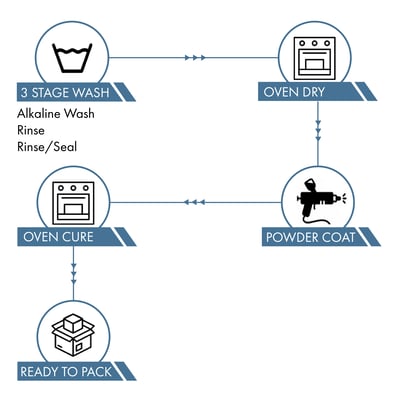 As they heat, the powder coating goes through a chemical reaction, called crosslinking, melting and flowing together to create a strong bond to the part's surface.
Because they've already been heated and the powder has melted on contact with the part's surface, fluidized bed-coated parts are sent through a UV oven to finish curing. This takes less time and uses less heat energy, so it's the preferred method for finishing heat-sensitive materials.
Electrostatic fluidized bed powder coated parts are either preheated before being passed through UV powder coating and then cured in a UV oven; or they are sent through a curing oven after they've been coated with thermoset powder.
Once the powder coated parts have cooled, your manufacturer can package and ship them.
Powder Coating Advantages
Back in the day (50+ years ago), metal parts that needed to be finished were painted or enameled. The process was long, tedious, hazardous to workers' health due to volatile organic compounds (VOCs) and toxic solvents, and – to top it off – unpredictable. Imperfections from either too much paint (drips) or not enough cure time (nicks and smudges) meant sanding and refinishing spots.
Painting manufactured parts took actual skill and a lot of time.
When powder coating came onto the scene, manufacturers were practically giddy over its advantages. Compared to liquid coating, it's:
Cleaner
Faster
More durable
Less expensive
Environmentally friendlier
Powder coating leaves a cleaner finish without drips, and it cures faster so there's no smudging. The whole process, from preparation to cured, cooled and ready to pack, takes only minutes. And, since it's a chemical process and powder coating bonds to metal surfaces, it holds up better to scratches, dents, dings, rust, and weather.
Metal manufacturers that offer powder coating have the option to either "spray to waste" and throw out oversprayed powder, or reclaim it to reuse it, lowering the overall cost for finishing. Because it's non-toxic, there aren't special requirements for its disposal, which also lowers costs. And, in another win for your bottom line, the fast turnaround time means parts spend less time in inventory.
Popular Powder Coated Parts
Powder coating has become ubiquitous wherever parts have traditionally been painted. Any metal that holds an electrostatic charge and tolerates high temperatures is fair game for powder coating – that includes:
Steel alloys
Stainless steel
Electroplated steel
Aluminum
With the introduction of UV powder coating, even materials that can neither hold a charge nor tolerate high heat, take powder coating, though not as well as the metals listed above.
Roll formed parts best suited for powder coating are:
Conveyor frames
Retail fixtures
Refrigerator shelving
HVAC components
Office furniture components
Powder coating not only makes these parts more durable, it also makes them more pleasing to look at, as a range of colors and textures are available. You can even get parts clear powder coated. Or, if you prefer unfinished, extremely clean parts, you can ask your manufacturer about running them through the same cleaning process they use before powder coating.
Powder Coat Your Metal Components to Extend Their Value
Powder coating raises the bar on finishes – it's cost-effective, time and material efficient, durable, AND good looking. All these factors make powder coating an attractive choice for any manufacturing project where quality finishings are essential.
Roll Form & Powder Coat Under One Roof
Want to learn more about optimizing the design of your roll formed parts? Get a comprehensive guide here:
Topics: OEM Roll Forming, Powder Coating
RELATED POSTS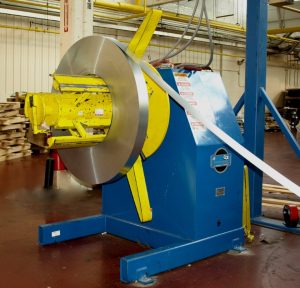 Roll forming is a metal fabrication process that involves the bending of metal strips to create a certain shape or design. It's one of the most simple and easy-to-understand metal forming processes there is; however, there are several components that go along with it.
Once you learn about these[...]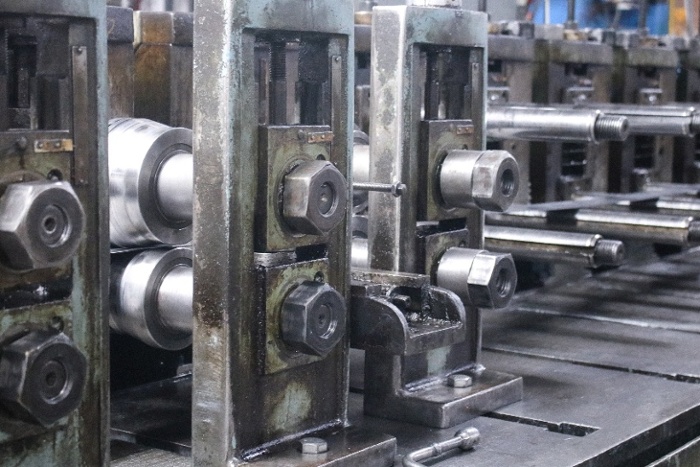 In the world of roll forming, controlling tolerance is the balance roll formers constantly navigate; it's a subtle art and a complex science – similar to pitching in baseball.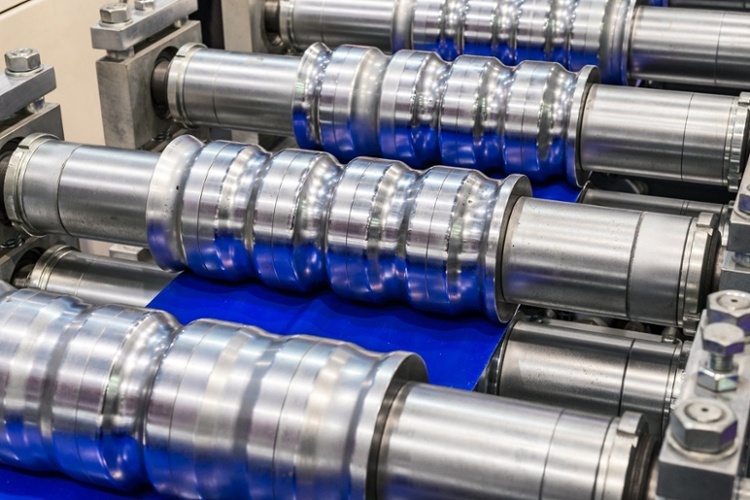 Durability. Flexibility. Cost-effectiveness. Adaptability for a variety of industrial and commercial applications. You've probably wondered at some point how hot forming and cold forming compare in when it comes to forming metal.