Metal manufacturing is fascinating because it's always getting better. Take steel doors and frames -- today's manufacturers can produce doors that are not only simple to customize and paint, but also will last a lifetime.
There's a whole lot of roll forming in door frame components, so let's take 'em apart and break down their construction! We'll also check out where roll formed parts are ideal in doors and frames, and where brake formed parts are more popular instead.


The Making of Steel Door and Frame Components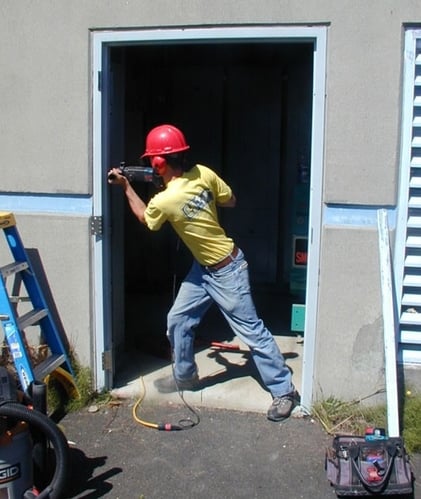 (Photo courtesy Anderson Door & Window Mechanics)
Many residential and commercial steel doors aren't actually steel all the way through, but instead consist of a steel exterior with a paper honeycomb, fiberglass, or foam insulation core. This is called a hollow metal door. Solid metal ones do exist in marine or military applications but are too heavy for any other applications.
Steel door and frame manufacturers sometimes roll form their own components but also buy from outsourced companies.


How Does the Steel Door Frame Component Get Shaped?
Here's one example:
The steel door faces are sheared from flat steel stock. This reduces the raw material to the specified size needed for manufacturing.





Next the steel door components head off to a punch press. A CNC punch press has dozens of tools to make precision cuts for openings in which to place door hardware, light kits, louvers, etc.





It's time to form it! In most cases a press brake bends the vertical edges of the doors along a hardened forming die. A separate press with multistage folding tools bends interlocking edges on the opposite door face so the two pieces can be joined.




Finally, spot welding locks things up with vertical and horizontal edge channel assemblies. If it's a hollow door, a core is placed inside the shell. Further welding occurs around the perimeter to literally seal the deal.


Door Channels and Whether to Roll Form
On a door, there are edge assemblies consisting of four channels: two horizontal and two vertical. There are many versions of this framing available for the edges, bottom, and top of your door, depending on what type of hardware will be used. Roll forming these components is very common.
The vertical pieces contain reinforcements for the hinges, plus the strike and lock mounting on the other side. The location of these mounting positions is determined by industry standards that change with the size of the door. There are also other types of hardware like deadbolts, closers, panic bars, and double door kits that add to the possible combinations of edge channel cut outs. Therefore, most manufacturers punch these channels in flat sheet form prior to manual Brake forming.
While brake forming is effective for odd combinations of door hardware, these types of doors only represent about 30% of all steel doors specified. Higher volume "standard" doors can utilize roll forming for door edge, top and bottom framing which results in lower cost components. Outsourcing these parts also reserves brake forming capacity for what it is … a shorter-run, flexible bending tool. Some hurricane-grade doors set their vertical channels thicker and deeper into the door. This helps resist the wind in places like coastal North Carolina and Florida. These also can be roll formed components.
The other components of a door that are roll formed are the glazing components. "Glazing," which derives from the Middle English for 'glass', is defined as "the action of installing glass." There are two ways to place them:


Flush Mounted
This is when the face of your door has no protrusion. The components are inside and welded so they're flush on the door face. Due to the process of welding this framing to the inside of the door skins, flush glazing is factory-installed only.
There's another glass stop kit that has snap-in mouldings, which are used to retain the glass once the glass is field installed


Overlapping
Overlapping glazing kits protrude over the face of the door and can be installed in the factory or the field. You can:
Cut a square hole in a door

Prepare the edges with appropriate blocking

Slide framing over the cut edges
Glass stop kits finish the job and hold the glass in place.
In our metal mouldings catalog, pages 41-43 show all types of glazing mouldings used for making steel doors. They include both the kind that would be inside the door and the kind that would be used to cut a hole in a door and frame it.


Steel Door Faces
Some door faces are roll formed, too. If so, this step is usually handled by the door manufacturer and not an outsourced roll former. Reason #1 is that door face shapes come in many varieties. The second reason is that it would be a pain to ship a bunch of super-heavy flat sheets with bent edges from an outside source.


Steel Door Frames
Metal frame components are either brake formed or roll formed.
As you may expect, the variability in door frames closely matches the variability in doors. The roughly 30% "odd" to 70% "standard" also applies. This makes roll forming "standard" door frame vertical jambs quite appealing. Door hinge and lock strike cutouts can either be pre-punched with individual "blanks" sent through a roll forming machine or pre-punch/post-punch processes can be engineered to punch continuously from a coil of steel.
Door frame roll forming machines can also be adjusted to handle varying gauges. "Gauge" refers to the metal's thickness and weight. Some door frame components are 18 gauge (thinner), while some are 16, and so on. Their specs for durability usually determines what gauge is used. Heavier gauges would be for high-use or hurricane-proof applications.
The frame "header" is the horizontal top piece that can be roll formed too, but it's usually brake formed because it's shorter and easier to handle that way.
In the end, when you receive the frames you will have two options:
The first is to assemble the three pieces in the field (a "knocked-down" or "KD" frame)

The second is to have the vertical jambs welded to the header and receive the unit in one piece.


On to the Finish
Speaking of paint, commercial metal doors normally come either prefinished with a coat of weather-resistant primer or galvannealed. Both the primer and the matte zinc finish of galvannealed steel agree with a variety of paint types. This is especially important for exterior door components; less so for interior doors.
Door frames are available in the same finishes, but unfortunately a dull, square profile is pretty much all that's available from a design perspective. If you want to try something daring, be different and add metal decorative mouldings to your frames.


Dahlstrom and Steel Door Components Go Way Back
Dahlstrom patented the first fire-rated steel door in the United States over 100 years ago, so lean on our experience to guide your next fire-rated door and frame design.
We've worked with manufacturers on several door frame roll forming projects, so if you'd like to see what we can do with your door design, get in touch! You can also check out a free sample door moulding for yourself below:
(Editor's note: This article was originally published in September 2018 and was recently updated.)
Topics: Architectural & Design, Materials
RELATED POSTS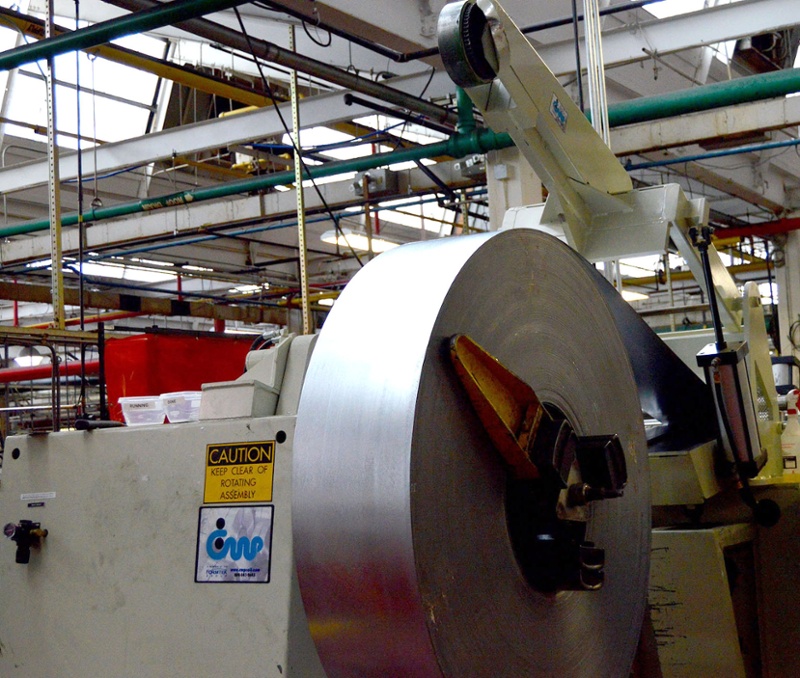 Metal is in style. Each metal creates a different aesthetic, meshes well with other materials, and is highly functional for a variety of applications. Metal is striking, enduring, and practical - just like your design.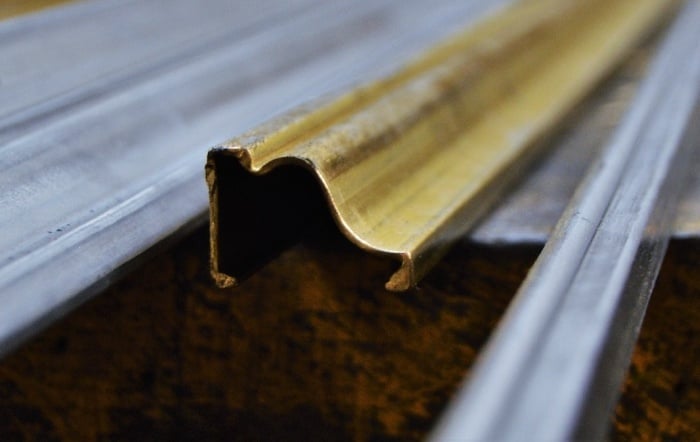 For most projects, no single factor drives the choice of metal for any kind of application. You might want something that's easily formable but also strong -- or great looking -- or inexpensive. One topic that often comes up, especially for projects that'll reside in harsh environments like[...]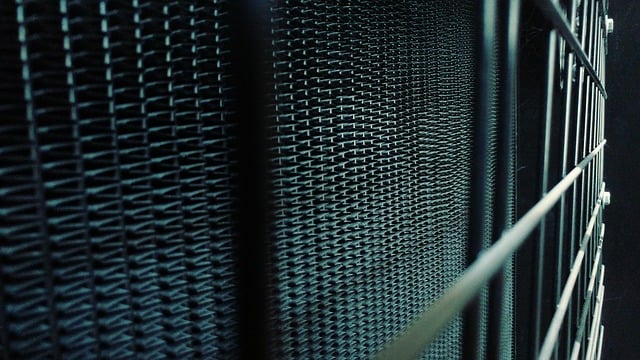 Duplex stainless steel has been around for almost 100 years, but it seems to be coming into its own now. This late blooming is somewhat surprising given duplex stainless steels' qualities. Its expanding popularity could be the result of its advantages over traditional austenitic and ferritic[...]