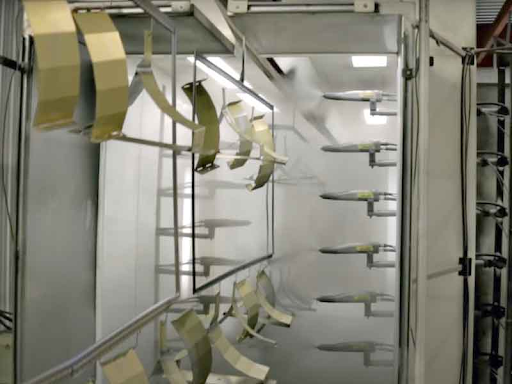 For many metal parts finishing projects, powder coating is a great option.
Powder coating provides an incredibly durable and attractive finish that can be applied to almost any type of metal surface. But when it comes to powder coating, there are often many questions about the process and what it entails.
Let's look into some of the most frequently asked questions about powder coating so you can make an informed decision about whether or not this is the right metal finishing choice for your roll formed parts.
Industrial Powder Coating: Frequently Asked Questions
What's the difference between powder coating and painting?
How long does powder coat last?
What types of metal work best with powder coatings?
Is it necessary to prepare the surface before applying a powder coating?
Can you apply clear topcoat to protect a colored powder coating finish?
What's the cost of powder coating?
Are there any environmental benefits associated with using powder coatings vs. liquid paints/coats?
Does humidity or temperature affect the application process for a powdered metal finish?
Does powder coating require any special equipment or tools?
How thick is powder coating on parts?
How long does powder coating take?
Does Dahlstrom powder coat in-house?
Can You Powder Coat Aluminum?
Yes, you can use powder coating to finish aluminum surfaces.
Powder coating provides a protective and decorative layer that helps to extend the life of the aluminum surface and prevent it from becoming damaged or corroded.
What's the Difference Between Powder Coating and Painting?
The main difference between powder coating and painting is that powder coating involves the application of a dry, finely-ground powder to metal parts as opposed to liquid paint.
Powder coating provides an even, durable finish without dripping that can also protect the surface from potential damage and help resist rust.
Additionally, powder coatings are usually more environmentally friendly than traditional wet paint methods since they don't use solvents or hazardous materials during the application process.
Painting relies on liquid paints instead of powders which require drying times as well as multiple coats for a thicker finish.
How Long Does Powder Coat Last?
Powder coatings can last for many years depending on the environment and type of substrate they're applied to. Generally speaking, powder coatings are known to be resistant to damage from scratches, abrasion, weathering, chipping, and fading – making them a great choice for outdoor metal parts.
The typical life of a properly applied powder coating is 15-20 years.
What Types of Metal Work Best with Powder Coatings?
Powder coatings are suitable for use on a variety of metal substrates, but some will work better than others.
Steel and aluminum are the most popular choices for powder coating due to their relatively low cost and durability. However, there are other metals such as brass, copper, and stainless steel that can also be powder coated with great results.
Is It Necessary To Prepare the Part's Surface Before Applying Powder Coating?
Yes, it is necessary to prepare the surface before applying a powder coating.
Surface preparation should include cleaning the substrate to remove any contaminants and fully drying it before applying powder coat.
Skipping proper parts preparation can lead to poor adhesion or other issues with your finished product.
Can You Apply Clear Topcoat to Protect a Colored Powder Coating Finish?
Yes, you can apply a clear topcoat over a colored powder coating finish to provide an added layer of protection and enhance the aesthetic appeal.
Clear topcoats are typically applied as a liquid or powder, and the type used will depend on your desired outcome. Liquid clear coats generally offer more UV protection than powder coatings, but they may require more time to apply and cure.
Clear powder coating finishes are also available when you want your parts to show off their natural colors.
What's the Cost of Powder Coating?
The cost of powder coating will vary depending on the type and quality of materials used, as well as the size and complexity of your project.
Compared to other coatings, such as plating and galvanizing, it's less expensive and quicker. When compared to liquid paint, it's more expensive but quicker and easier to apply.
It's important to keep in mind that powder coatings are more durable and longer-lasting than traditional wet paint applications, so the added cost can often be worth it in the long run.
Are There Any Environmental Benefits Associated With Using Powder Coatings Vs. Liquid Paints/Coats?
Yes, there are environmental benefits associated with using powder coatings instead of liquid paints or coats.
Powder coatings don't use solvents or hazardous materials during the application process, making them much more environmentally friendly than traditional wet paint methods.
And, since powder coating can be applied in a single layer without dripping, it requires less material and energy to apply than traditional painting methods.
Finally, because powder coatings provide an even and durable finish that resists rusting and fading, they have longer lifespans than other types of finishes which means fewer replacements over time – leading to fewer resources used for production.
Does Humidity Or Temperature Affect The Application Process For A Powdered Metal Finish?
Humidity and temperature can have a significant effect on the application process for a powdered metal finish.
When the relative humidity is too high, the powder coating may not be able to adhere properly, resulting in an uneven finish.
Similarly, when the temperature is too low, the powder particles won't be able to bond together as quickly or easily, leading to a weaker finish.
Therefore, it's important to carefully monitor the humidity and temperature levels during the application process in order to ensure that you're getting the best possible results.
Dahlstrom's Powder Coating Line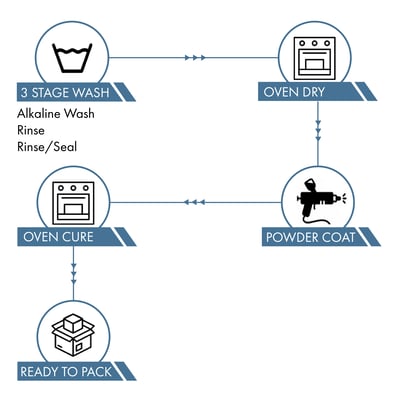 Dahlstrom has a dedicated powder coat line built for efficiency.
Parts are first washed and rinsed, then sent through an adjacent chamber of the curing oven to dry.
Next, they're powder coated through an automated electrostatic spray deposition (ESD) conveyor system.
Afterward, the parts move to the curing oven for a full heat treatment (typically about 375℉ for 10 minutes).
Parts are cooled right on the line, then they're ready to be packed.
Does Powder Coating Require Any Special Equipment or Tools?
Yes, industrial powder coating requires certain specialized equipment, tools, and processes in order to achieve an even and durable finish.
This includes:
A line system to move the parts
A cleaning process to prepare them
A spray system to apply the powder coat
An oven for curing the powder coating
Other tools such as safety gear and media blasting equipment
Additionally, it's important to use high-quality powder coatings that are specifically designed for application on metal surfaces in order to ensure a long-lasting and attractive finish.
What Colors & Textures Are Available?
Powder coatings come in a wide variety of colors and textures to suit most project needs.
Finishes can be made to match any color very precisely, using the L*a*b* scale.
They're available in different gloss levels:
Matte
Satin
Medium-gloss
High-gloss
Common textures include:
There's even clear options so powder coated steel can stay gray, if that's your preference.
How Thick is Powder Coating on Parts?
Powder coating on parts is about 1-3 mm when it's applied. It thins as it cures to about 1-2 mm.
How Long Does Powder Coating Take?
The actual powder coating is quick – taking only seconds. The overall turnaround time depends on how much conveyor is on the powder coating line and how many parts are being finished.
The whole process, from prepping parts, to spraying, to curing, is about 40 minutes.
Does Dahlstrom Powder Coat In-House?
Yes! We powder coat your roll formed parts in-house, offering you time and cost savings by keeping your parts manufacturing process all under one roof.
Finishing Parts: Industrial Powder Coating
It's an industry standard: If your metal parts need finishing, powder coating is the way to go.
Turn to powder coating when you need your parts' finish to be durable, cost-effective, and attractive.
Powder Coating & Roll Formed Parts
Are you looking for the most cost-efficient way to produce parts? Working with a roll former could be the answer. Want to learn more? Check out our free guide, "Why Roll Forming?"
Topics: OEM Roll Forming, Powder Coating
RELATED POSTS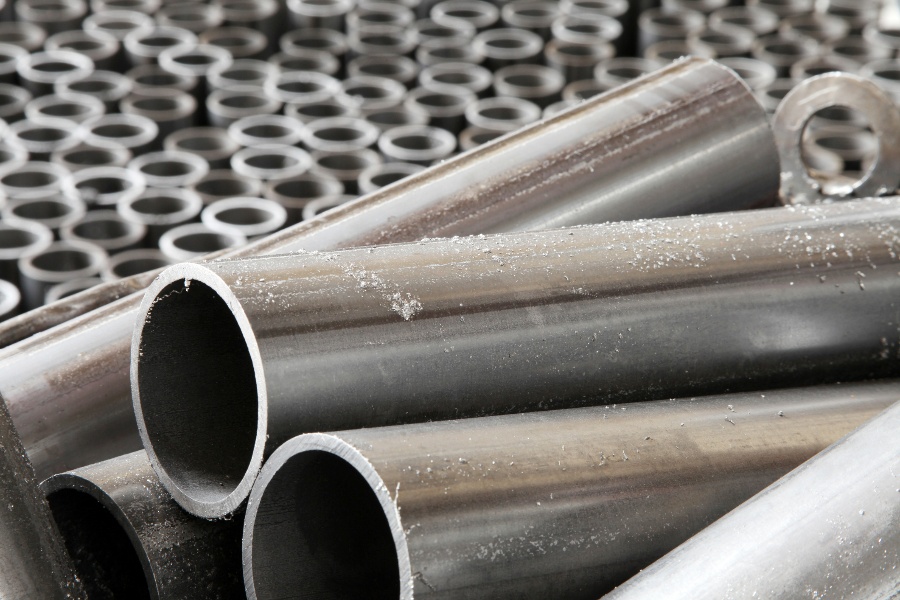 Discovering the intricacies of metal properties unlocks valuable insights for roll form engineering projects.
This knowledge helps you make informed decisions when selecting materials and ensures that your project meets all quality standards.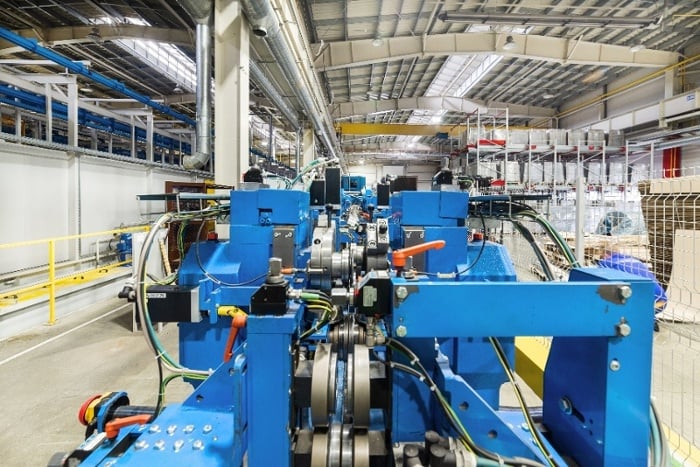 Finding the right material for your job while staying within budget can be a challenge.
Roll forming offers a cost-effective solution for shaping certain materials, particularly those with complex bends or precise angles.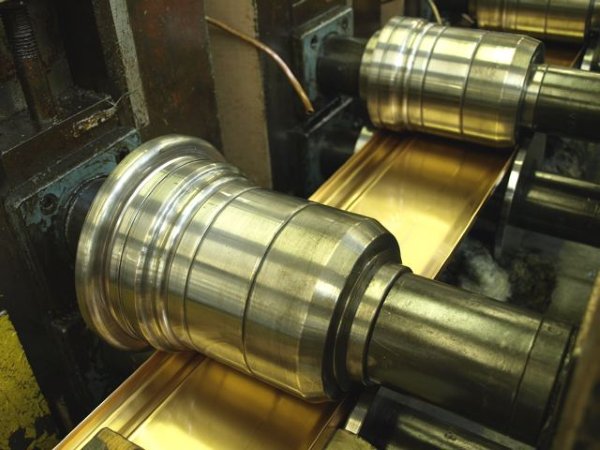 As a manufacturer, you know that the manufacturing process behind your components makes a big difference in the quality of the product.
But with all of the different metal parts manufacturing methods available today, it can be difficult to determine which one is best for your needs. Different[...]