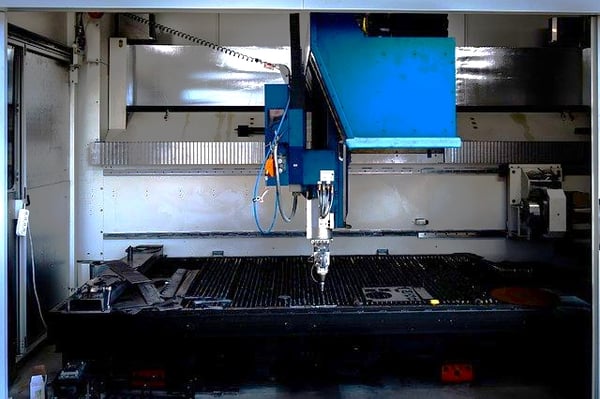 When it comes to cutting metal, there are plenty of ways to get the job done. But when it comes to high-tech, accurate cutting, two of the most popular options are waterjet and laser cutting.
They're lean, they're mean, and they look cool in action.
So in the battle between the waterjet vs. laser, which method do you prefer? Both are great options, but like most things in manufacturing, each has its own strengths and weaknesses.
Here's a closer look at the attributes that set these two technologies apart as well as some other tips on how to cut metal that you may want to consider:
Breakdown: Waterjet Vs. Laser Cutting
Waterjet cutters use high-pressure water streams mixed with abrasive particles to cut through a range of materials, while laser cutters utilize a focused beam of light to burn through materials.
When trying to determine which metal cutting technology to use, there are some important factors that should be taken into consideration:
Tooling & component costs
Operating costs
Machine costs
Waste
Versatility
Speed
Accuracy
Intangibles like noise and safety (if you're handling it in-house)
Here's a more in-depth look at each:
1. Tooling & Component Costs
Laser cutting: If you're looking for inexpensive tooling, the laser cutter certainly works. Why? With a laser-driven machine, there is no tooling – you just program the cutting path and step aside. Even the laser – the key component – is inexpensive thanks to the increased demand for such products.
It's said that the most expensive aspect of running a laser cutter – other than the up-front cost of purchasing the equipment – is the power needed to operate the machine. If you're outsourcing your cutting, expect this to factor into the vendor's operating costs. A nice trade-off to this expense is that a laser tube itself lasts about 2 years.
After that, it can be refurbished for about $3,000 - $5,000. A new tube, depending on the type will cost you about $7,000.
Waterjet cutting: This tends to be pricier due to component wear and consumables. In addition to a water pump that needs periodic maintenance, you'll need nozzles, seals, cutting water, cooling water, and an abrasive medium to run with the water in the machine.
Fortunately, a water jet cutter doesn't require tooling, just someone to program in a cutting path in the CNC.
2. Operating costs
There's also a gap between operating costs when it comes to the waterjet vs. laser debate.
Laser cutters: Cost anywhere from $13-$20 per hour to run.
Waterjet cutters: Have a general range of $15-$30 per hour.
Overall, the operating costs are fairly similar, and the total cost will depend on your project.
3. Machine Costs
If you're outsourcing your metal cutting services (which in many cases we recommend), you can skip this one. If not, read on.
One advantage that water cutters have over laser cutters is a lower up-front machine cost. This makes it important for users to weigh whether or not they'll recoup the cost of investment over time by selecting a laser cutter over a waterjet cutter.
4. Waste
One often overlooked aspect of cutting is the cleanup.
Laser cutters: Aside from a little bit of dust, there's really no mess made by the laser cutting process.
Waterjet cutters: These involve a more extensive cleanup.
5. Speed
Speed is one category that really separates laser cutters and waterjet cutters.
Laser cutters: You can typically cut more productively using a laser. In fact, some laser cutters can cut up to 70" of material per minute.
Waterjet cutters: These usually can't cut more than 20" per minute.
6. Accuracy
Laser cutters: These can cut as precisely as +/- 0.005 inches. You can get solid accuracy with both methods, but the edge here goes to laser cutting.
Waterjet cutters: This method makes your cut within +/- 0.02 inches (note there's one less 0 there).
7. Versatility
Laser cutters: These are somewhat limited in what they can cut, although the technology has improved in recent years. You can't, though, cut something like marble.
However, you can cut metals, plastics, and even fabrics, but you're limited in the thickness of the metal you can cut. That may depend on the wattage of your vendor's (or your own) machine.
Waterjet cutters: These are very flexible machines, as they can cut just about any material. They can go deeper than laser, depending on the water pressure and the abrasives used in the jet.
8. Intangibles
Laser cutting: It's quiet and safe!
Waterjet cutting: The process produces a lot of noise and generally is perceived as more dangerous. Best let a specialized expert handle it for you.
Other Metal Cutting Contenders
As we mentioned, there are plenty of options on how to cut metal. Here are a couple more:
Plasma Cutting
This is another technology that you may want to consider, depending on your needs.
These machines are expensive – potentially costing up to $300,000, if you're crazy and/or loaded enough to attempt this in-house. But, the benefits of plasma cutting include a lower operating cost than laser and water jet cutting and a better production rate.
However, plasma cutters are limited in the variety of materials they can process. They're best reserved for steel and aluminum jobs.
Turret Press
A turret press (or turret punch) is a type of punch press.
You'll need to have a tool for each feature you want to do on a piece of metal. Alternatively, you can take a common tool and, for example, knock a bunch of chunks out of your workpiece until you get the bigger hole you want. That sort of work takes time, though -- you might need to make nine hits vs. just one if you had the exact tool you needed.
Turret presses can be worth it if you're making the same component on a consistent basis.
In those cases, turret pressing can actually be faster than laser or waterjet cutting. Just remember that it takes more time to set up than a laser cutter. And, if you are making a lot of the same stuff you should also investigate a stamping press with a dedicated tool set.
A punch is less flexible than a laser for cutting compound shapes, but faster for repetitive shapes. Turret punching can also do some shallow forming of the metal. Some vendors use machines that combine laser and punch features into one!
See how roll formers incorporate holes in your parts with a pre-punching process:
Choosing the Right Metal Cutting Technique
Deciding on waterjet vs. laser, or even plasma cutting vs. turret press comes down to a number of factors. You've got to consider:
Materials
Budget
Timeline
Your manufacturing partner can be an excellent resource to help point you in the right direction.
Looking to Learn More?
Did you know roll forming is the most efficient process for mass-producing metal components with complex hole patterns? Check out our services & capabilities guide to see if roll forming fits your project:
Editor's note: This article was originally published in November 2018 and has recently been updated.
Topics: OEM Roll Forming, Materials
RELATED POSTS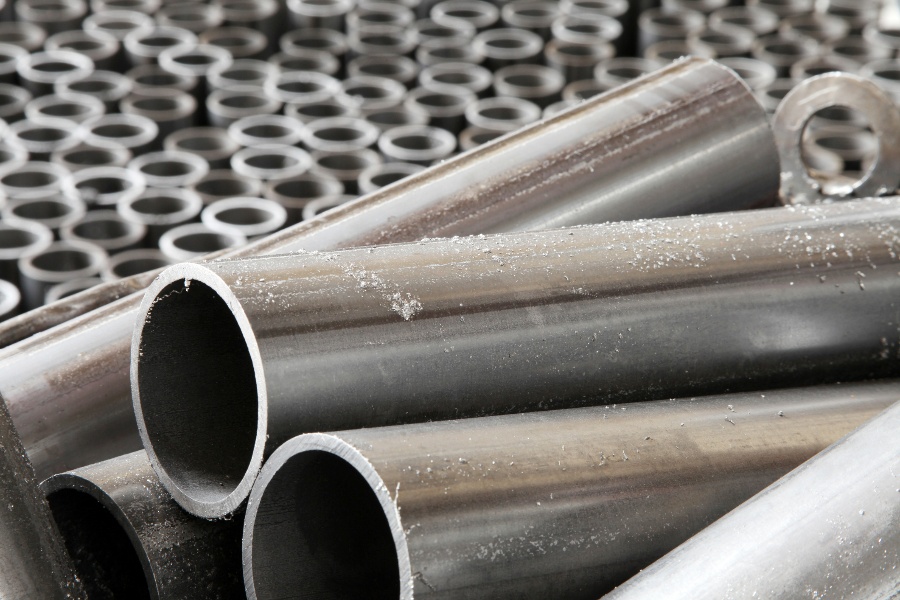 Discovering the intricacies of metal properties unlocks valuable insights for roll form engineering projects.
This knowledge helps you make informed decisions when selecting materials and ensures that your project meets all quality standards.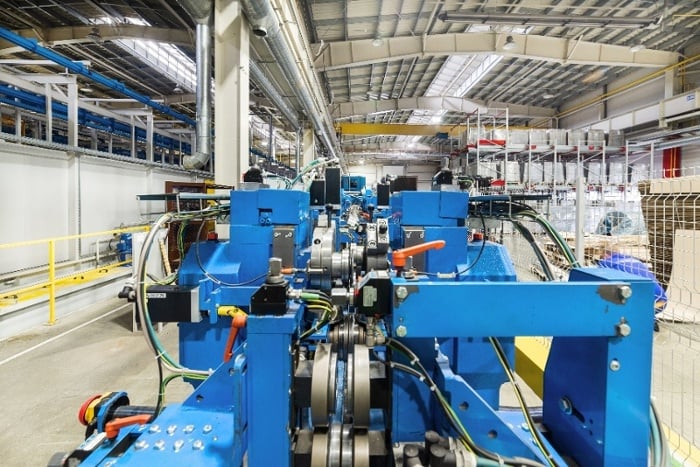 Finding the right material for your job while staying within budget can be a challenge.
Roll forming offers a cost-effective solution for shaping certain materials, particularly those with complex bends or precise angles.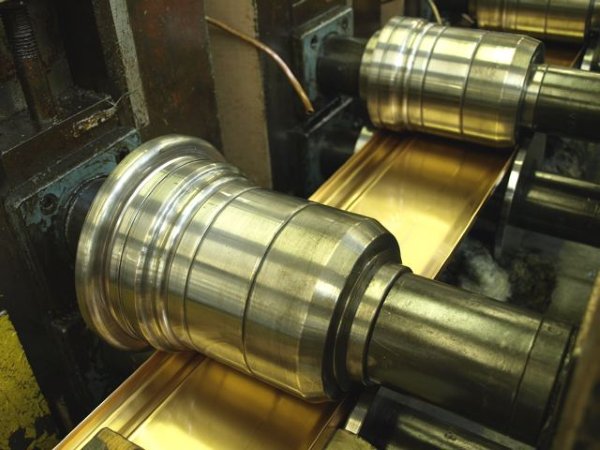 As a manufacturer, you know that the manufacturing process behind your components makes a big difference in the quality of the product.
But with all of the different metal parts manufacturing methods available today, it can be difficult to determine which one is best for your needs. Different[...]