"What is roll forming?"
Even design engineers with 20+ years of experience still Google this question. Despite its efficient and industrious nature, roll forming is a niche manufacturing process known to few, and understood by fewer.
Whether you've been studying your options for a while, or have no idea what roll forming is, the following should give you a solid understanding of how it compares to other metal manufacturing processes.


What Is Roll Forming?
Roll forming is a unique metal forming process that starts with a long strip of metal, usually in coil form. The roll forming machine forces the material through a series of mated tool dies -- male and female -- to achieve a uniform shape.
Each step of the operation bends the workpiece little by little until it reaches the shape you need.
If it sounds simple, it's not. It takes a heavy dose of engineering to determine:
The order in which each bend should happen
What needs to be underbent/overbent to account for springback
Where any holes need punched so they end up in the right place on the final profile
Each pass pushes, pulls on, and turns the metal. After a machine cuts it to length, the piece goes onto a runoff table, where your roll forming manufacturer labels and packages the product.
Additional services your roll forming company may offer include protective finishes such as prepainted or galvanized steel. This can save you a secondary step in the production process.


Why Does Roll Forming Stick to Certain Shapes & Thicknesses?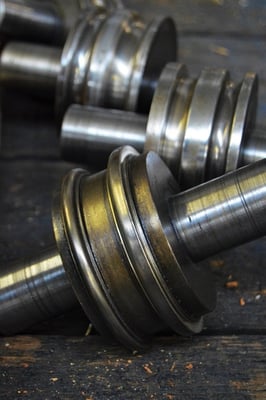 To be formable, a part must be linear and able to maintain a set profile through the entire length (basically, a long and skinny piece). This allows for a continuous process as the strips are fed through the machine, and minimal stopping of the machines. While the process is somewhat limiting shape-wise, it makes roll forming the most economical manufacturing process for mass production of many types of components.
Your design's thickness and shape are tied together too. Your roll forming design's shape and thickness will depend on the functionality, sturdiness, or straightness your components require.
Each roll forming machine has its own limits based on the number of passes you need through the machine and the amount of tonnage (force) required to cut the part. Many roll forming suppliers have multiple stations set up in-house and can match the appropriate line to your needs.


Roll Forming Materials & Applications
Custom roll formed products come in many materials:
Carbon/mild steel
Stainless steel
Galvanized steel
Aluminum
Copper
Brass
Bronze
As such, roll forming applications are everywhere. Some of its uses might be known to you, others not so much:
Mounted solar panels
Commercial & industrial HVAC projects
Guide rails and sign posts
Construction framing
Automotive and locomotive components
Architectural design & mouldings
Much more
Why Bother With the Roll Forming Process?
Like any other metal manufacturing process, roll forming has a sweet spot. The cases in which you'd choose a roll forming company typically fall into these categories:
High Volume: If you need orders of 10,000+ consistently, roll forming is for you. This is especially true if your order and design are highly repeatable, and you can't afford a defective batch.


Feature Attractions: Do you have a metal channel design that requires intricate bends, holes, notches, knockouts, labels, stamping, or embossing -- or a combination of two or more of these? Roll forming makes these features happen in-line -- no additional station necessary!


How Is Roll Forming Different From Other Metal Manufacturing Processes?
There are many ways to bend and otherwise manipulate a piece of metal. These are some of the most popular:


Stamping
A stamping press uses a tool and die surface to punch out pieces of metal from a much larger sheet. The excess material all goes in the scrap bin. Stamping techniques include bending, blanking, punching, flanging, coining, and embossing.
Stamping is used solely for shorter parts. Some product makers handle stamping in-house because it can be highly automated and requires less operator skill than roll forming.


Forging vs. Roll Forming
Roll forming is a cold forming process that does not require heating the metal. Forging involves hot forming -- very hot forming.
The forge creates extremely high temperatures to extrude and roll molten steel. Hammers, rolls, and presses shape the material into its final form.
Although cold rolling can create thousands of standard and custom shapes, some structural shapes cannot be made any other way than forging.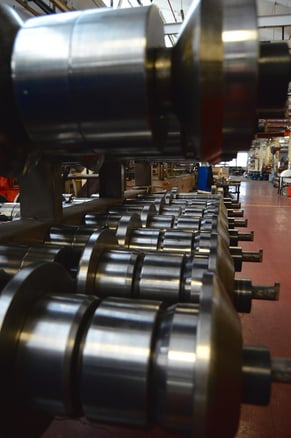 Press Braking vs. Roll Forming
In this metal forming process, a workpiece is clamped between a punch and die. Intense pressure forms the final shape.
The biggest difference between press braking and roll forming is the way your manufacturer feeds the material into the line. Press braking material is sheeted, slit, and cut to length, all before inserting the workpiece into the machine.
Similar to stamping, press braking is limited to short parts unless you join pieces via secondary operations.


Extrusion vs. Roll Forming
Extrusion involves a cylindrical billet housed inside a closed cavity, and forced through a die of the desired cross-section.
Extrusion relies more heavily on secondary processes than roll forming does. Furthermore, before any secondary operations can happen, extruded parts must go through an extra aging process in an oven.
Unlike roll forming, extrusion's specialties are low-volume orders with single bends.


Casting vs. Roll Forming
Casting looks like this: A liquid metal is poured into a mold that contains a negative impression of the intended shape. Inside this mold, it cools and is later extracted (carefully).
Casting differs from roll forming in that it's better-suited for low-volume batches. From a quality standpoint, it also differs in that it produces parts with high porosity. Depending on your application, this is either a very good thing or a disaster-in-waiting.


Roll Forming Design Guide
Whether you need a standard profile or a custom roll formed shape, chances are it's possible with roll forming. Just make sure your roll formed part design is:
Straight
Mid-to-high-volume
The best way to determine whether roll forming is your best option is to consult a roll forming vendor with experience in your industry. You can also consult the free e-book below to get started on designing a part for the roll forming process:
Topics: OEM Roll Forming, Materials, Pros and Cons
RELATED POSTS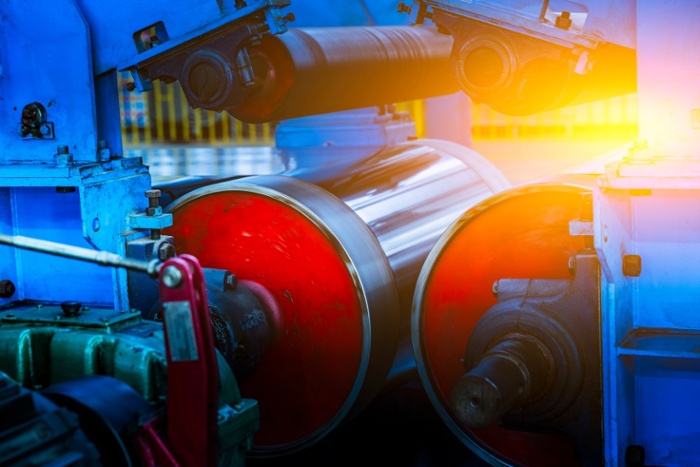 There are six words that can quickly ruin a business: "That's how we've always done it."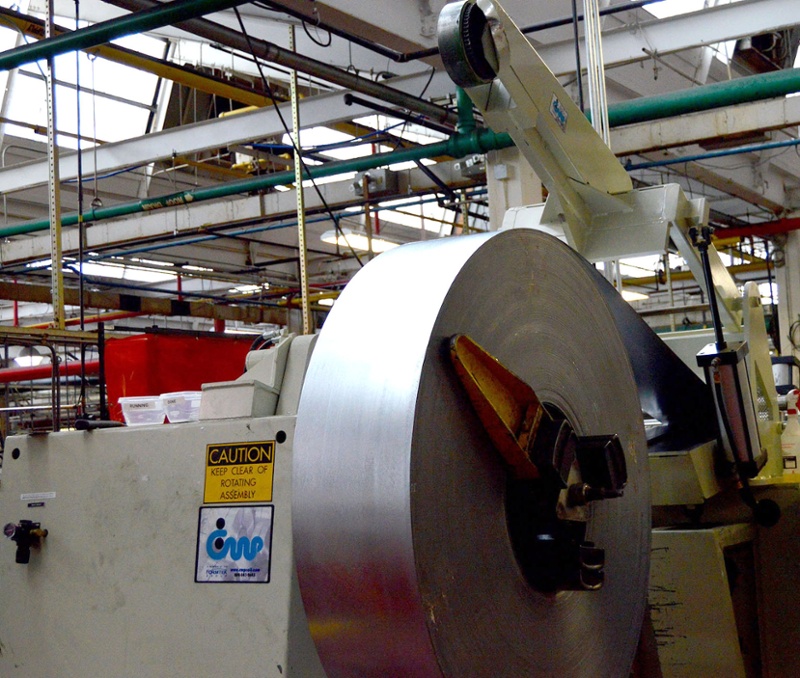 Metal is in style. Each metal creates a different aesthetic, meshes well with other materials, and is highly functional for a variety of applications. Metal is striking, enduring, and practical - just like your design.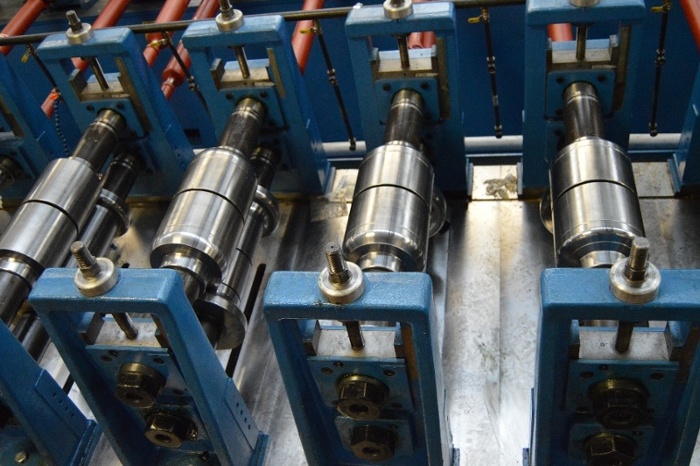 When it comes to roll forming cost, if price is the battle, total cost of ownership or -- TCO -- is the war.
TCO is an analysis of the complete life cycle of your purchase. The number includes every phase of ownership.