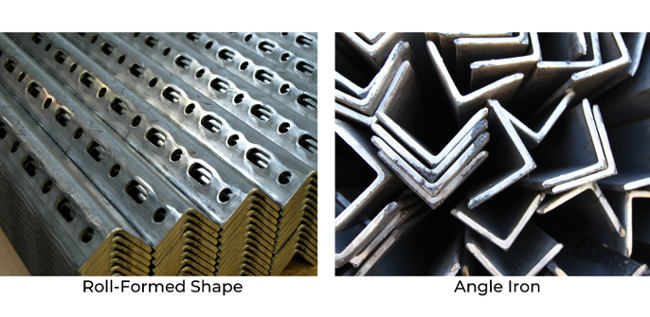 Any metal component design needs the right manufacturing process to achieve its potential. Factors to consider include adaptability to the application, material flexibility, production time frames, product durability, and cost-effectiveness.
There are a variety of metal forming processes that might be able to achieve the desired result, such as stamping, press braking, or extrusion. One comparison not talked about enough? The differences between roll-formed shapes and angle iron.
Let's compare the two metal forming processes and look at any advantages one may have over the other. Your component can only reach its potential if you make knowledge-based decisions suited to your specific needs!


Two Metal Forming Processes: Hot Forming Angle Iron vs. Cold Roll Forming
The biggest difference between roll-formed shapes and angle iron is the way each is created.
Angle iron is created by a hot rolling process. It starts as a billet of red hot steel and gets pushed into rough rollers to get it close to the angle size. It works through the rolls until it reaches the desired thickness. These machines run 24/7 and cut off at random 20+/- ft. lengths.
No holes or notches can be made in-line during hot forming. Customers also pay to saw cut the specific lengths they need and any scrap waste and are sometimes required to accept larger bundled deliveries. Additional time may be necessary to perform secondary drilling or milling operations, increasing cost and production time.
Roll-formed steel shapes, in comparison, are cold rolled. This means that a piece of flat sheet metal is gradually bent into the desired profile by passing it through a series of mated roll tool dies. Complex shapes may require 20+ passes through the roll forming line; simple geometries may only need a few.
This is an efficient metal-forming process that's very economical for producing angles, channels, and complex shapes with multiple bends. In-line punching features include:
Holes
Notches
Slots
Embossing
These are easily accomplished, eliminating the need for secondary operations. Scrap waste is rarely over 2%.


Advantages of Roll Formed Shapes vs. Angle Iron
Angle iron material is typically that of highly rust-prone A36 galvanized steel. The outside corners are usually square, with the legs being tapered.
One example you may be familiar with: An angle iron frame is a right triangle, or 90°. This shape provides strong support and is capable of bearing a surprising amount of weight from the top or side.
Many structural engineers use reference tables like the U.S. standard for structural shapes. Angle iron companies match those standards for steel composition and exact sizing so structural engineers can use those tables to design load-bearing items. So, if you are designing structural construction, this method skips the need to determine your own load-bearing properties through calculation.
Roll-formed angle iron, in contrast, has a large radius on the outside and a sharp radius on the inside. Roll-formed angles will be more precise with exact lengths of legs as needed to fit your assembly and can be pre-punched with features as they are being produced. Required lengths can be easily cut to length in the quantities required with no scrap. However, if you are designing for load, you will have to calculate load-bearing qualities yourself.
The angle, however, can be made out of different materials such as:
Cold or hot rolled steel (galvanized or plain)
Stainless steel
Aluminum
Copper
Brass
Bronze
Any of these materials can be specified for thickness.


Cost Differences Between Angle Iron & Roll Formed Shapes
Typically, smaller quantities are more readily available for angle iron, as it's typically stocked at steel service centers. However, there will be a break-even point where specifying exact angle thickness, leg sizes, and pre-cut lengths required will make roll forming the more cost-effective choice.
Don't forget the extra cutoff labor and scrap-waste costs of using angle iron - that alone may make roll forming a much better financial route.
(Resource: Wondering about other metal forming cost-saving methods? Click below to check out our guide!)

Applications for Roll Formed Shapes and Angle Iron
Industries where angle iron is appropriate include:
Construction including:
Bridges
Stairways
Roof support framing
Workboat structures
You might see it in everything from elevated tank supports and street sign structures, to building columns and cell phone towers.
Industries where roll-formed steel shapes see the most applications include
Automotive
Locomotive
Custom, proprietary assemblies
You'll also find roll-formed steel shapes in warehouse and distribution storage systems. Some enhancements to roll-formed angle include hems to provide smooth edges, bends other than 90 degrees, stiffening ribs in the legs for greater sectional properties, and precise length tolerances for a perfect fit to mating parts.
The best way to determine when it's appropriate to use roll-formed steel shapes in place of angle iron is to consult a roll-forming supplier with in-depth experience, state-of-the-art technology, and superior production capabilities.


Deciding Between Roll Forming and Angle Iron
Now that you understand the differences between the two metal-forming processes, you can make an educated decision about whether to choose roll forming or angle iron for your next project.
If roll forming sounds right for you, check out our free e-book on designing great roll-formed parts. This guide addresses your design considerations specific to roll forming:
Topics: OEM Roll Forming, Materials, Processes
RELATED POSTS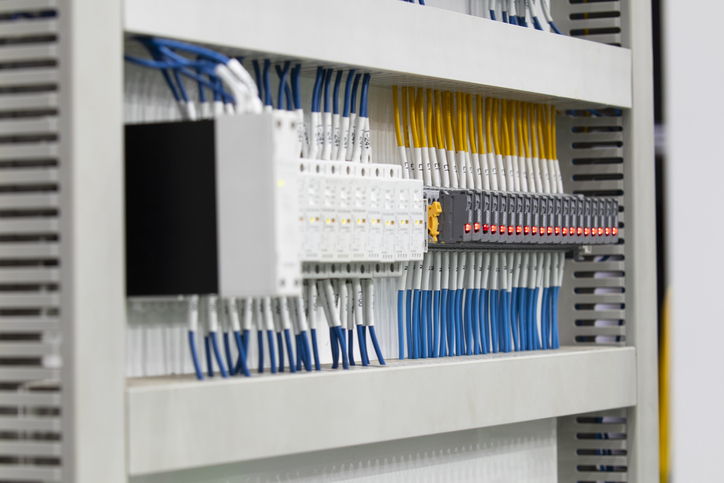 The U.S. power distribution sector is under a storm cloud.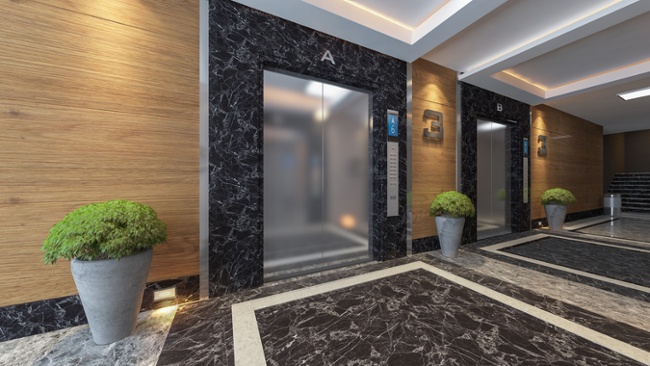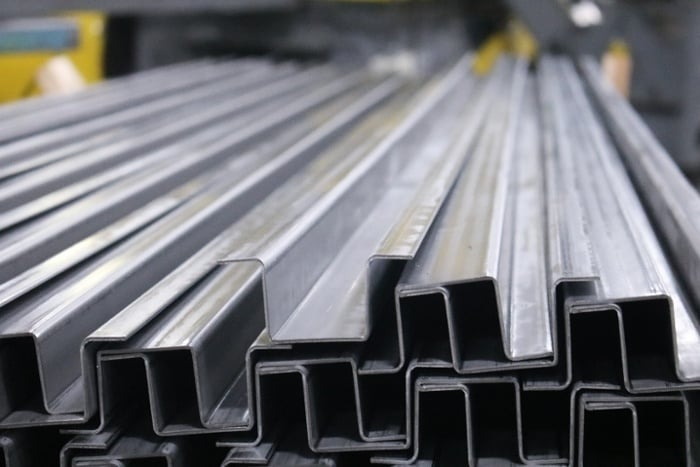 Metal finishes are a critical component of many industrial applications, serving to protect your industrial parts' surface from corrosion and wear over time.