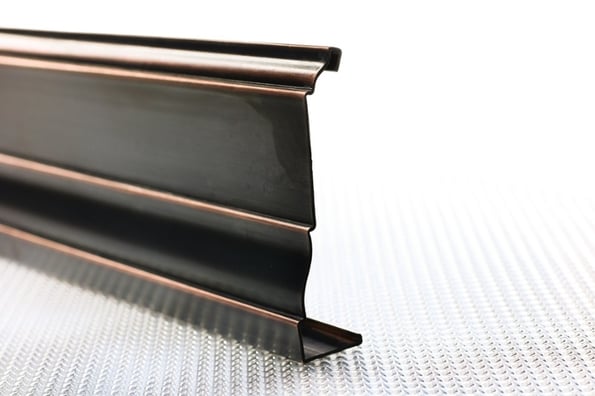 The Empire State Building is an architectural wonder. Delighted by its size and signature Art Deco style, architecture professionals and admirers alike have asked, "How did they do all this?"
And, while we can't tell you how the mooring mast was constructed, or much about the marble interior, we can tell you how the metal mouldings were made… because we made them.


Why Use Architectural Metal Mouldings?
Metal mouldings have been around for over a century, and it's easy to see why. They have a timeless beauty that works in both modern and historic architecture. Furthermore, metal mouldings are built to last decades and offer several advantages over other materials, including:
Fire resistance
Impact resistance
Corrosion resistance
Sustainability
Architectural metals provide a strong visual impact while maintaining durable design for both interior and exterior projects; add them to your design to make a bold, unique statement.


So… How Are Dahlstrom Architectural Mouldings Made?
Metal mouldings are made with a fabrication process called roll forming – this process involves heavy machinery that gradually bends flat sheet metal into a long, uniform profile by passing it through a series of mated tool dies.
Resource: Want to see roll forming in action? Dahlstrom President/Owner Rob White walks us through the entire process in this video.

First, a large coil of sheet metal is placed onto an uncoiling/straightening mechanism, where it is then unravelled into a set of mated roll dies. Each set of roll dies is driven by its own system of gears which all work together to gently, synchronously push/pull the material through the machine… ultimately forming our beautiful metal mouldings.
Think of these mated dies like a train wheel and a track. They're made so that one fits perfectly into the other, but with enough space between them for the metal to pass through.
Each set gradually bends the metal closer to the final shape. Complex shapes require more sets of dies for the metal to pass through, while simpler profiles require less. A typical roll form mill can consist of anywhere between 10-30+ pairs of roller die stands.
Why not just bend it all at once? Well, the answer lies with basic physics.
When a piece of flat metal is bent, the physical structure of that metal is altered by force. This force puts stress "into" the metal, which then needs to be "released" in some other manner throughout the workpiece (twisting, curling, etc.). If this force is applied too fast and without any control, that metal workpiece will turn into a mangled mess. Roll forming gently "massages" the metal into its final form, while also controlling the direction in which those stresses are released. In doing so, the workpiece conforms to its new shape with very little distortion.
Once the metal comes through the forming dies, it is then cut into separate parts, in one of two ways. It may go through a cutoff mechanism specifically designed for the final moulding profile, which cuts the parts at precise lengths and with "clean" ends. But if there is no cutoff designed for the shape, the metal is pinched/smashed at an approximate length. Those pinched ends are then sawed off and the moulding is deburred in a secondary operation to provide safe, clean edges.
The finished moulding is then discharged onto a run-out table, so it can be placed in protective packaging for storage or shipment.


Roll Forming with a Draw Bench Machine
While we perform the majority of our work using modern roll form machines, we do still own (and use) an antique drawbench machine. This type of machine follows the same forming principles as explained above, but we'll say it does so in a much less "graceful" manner.
A drawbench machine still has an uncoiler and sets of mated roll dies… but those roll dies are NOT individually powered. Instead, a giant clamp, which is attached to a giant chain drive, is used to pinch the leading edge of the metal ribbon. When the chain drive is powered on, the clamp pulls (draws) the metal through the roll dies and away from the coil. Once enough material is run out, the chain drive is stopped so the operator can cut the finished product with either a hack saw, or large metal snips. The clamp is reset, and the process is repeated for each length of moulding required for the job.
Now, drawbench tool sets are quite rudimentary; we're talking only 4 - 8 sets of rolls dies. This means a lot of forming stresses are introduced in a short period of time. Unsurprisingly, the "finished" product will often come out bowed and twisted in all sorts of ways. In these cases, the moulding is placed in a separate machine called the stretcher… which is exactly what it sounds like. The stretcher pulls the moulding in opposite directions, alleviating the stress in the metal and straightening the moulding back out.
The drawbench is actually one of the original versions of roll forming, and very few (if any) manufacturers have one. But Dahlstrom introduced roll formed metal mouldings to the world in the early 1900s, so a lot of our moulding tools were originally designed for this exact process.


Add Impressive Value to Your Project
Decorative metal trim moulding is synonymous with luxury. If you want to create a high-end aesthetic that stands the test of time, metal mouldings are a perfect choice.


Want to See an Architectural Moulding Up-Close?
Now that you know how our architectural metal mouldings are made, you may be wondering how they'll look and feel in your design space.
Request a metal moulding sample from our massive inventory of more than 1,400 profiles.
Click here to request a sample: