How Your Roll Formed Part Is Made: Roll Forming Metal Fabrication
Roll forming may seem like magic at first glance: you insert a coil of metal in one end, and a finished part pops out the other. What happens in the middle? Let's dispel the mystery of this metal fabrication process.
1. Entry End Equipment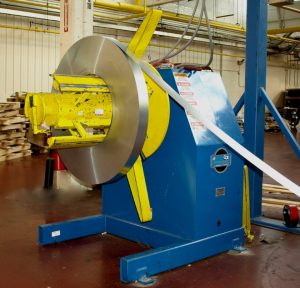 Roll forming starts with entry end equipment. This equipment prepares the metal coils for roll forming. As the coils have been tightly wound for some time, minor correction is needed to remove coil set. Coil set is the tendency of the metal to stay coiled, plus a bit of material distortion.
1. Metal coils are loaded onto the uncoiling device by floor or pit-mounted coil car.
2. The coil is opened and fed through a flattener to remove the coil set.
3. The lead end is trimmed and joined to the trailing end of the previous coil (if applicable).
2. Strip Accumulators and Slack Loops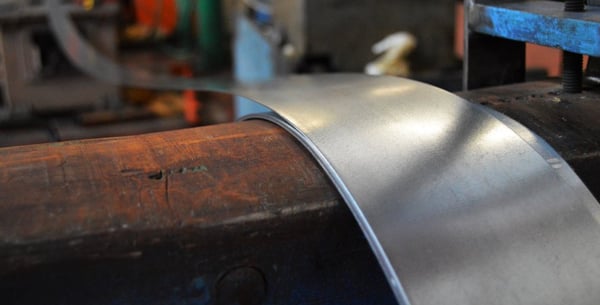 Strip accumulators and slack loop stands contribute to roll forming's highly efficient metal fabrication process.
4. Accumulators and slack loops allow the coil strip to stop long enough for a pre-punch press stroke while still allowing the roll forming mill to run continuously.
5. Strip accumulators are used in high-speed operations where frequent stopping and starting will cause a loss of efficiency. The accumulators temporarily store sections of metal strip, allowing the operations to continue while the loop straightens out. Timing needs to be accurate in order to feed another segment of "slack" at just the right time.
3. Pre-Punch Presses
Before the material is fed into the line, it may pass through one or more in-line punch presses. This is the first opportunity for secondary fabrication in the roll forming line.
7. Digital controls and highly accurate coil feed systems allow operators to punch holes, notches and slots in any number of uniform patterns. Depending on your project specifications, this may add no time at all to the cycle.
4. The Mill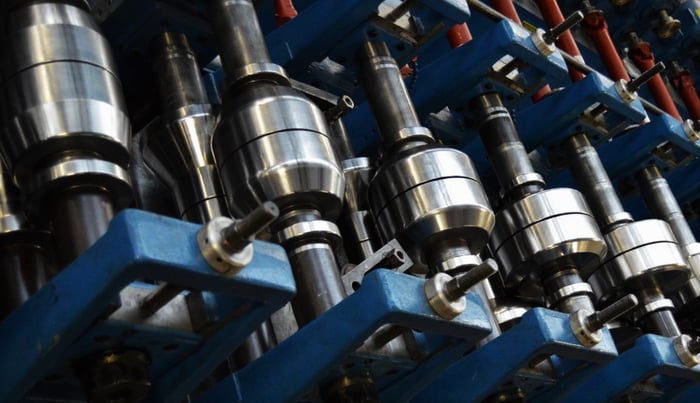 The mill is the section of the roll forming line where the material is shaped into its final form. A typical mill consists of 10-24 pairs of roller die stands.
8. The mill is individually OR gang-driven to pull the ribbon of metal through the rollers.
9. The rollers gradually form the ribbon into the finished shape. The flower pattern below illustrates the forming process of one particular series of rollers: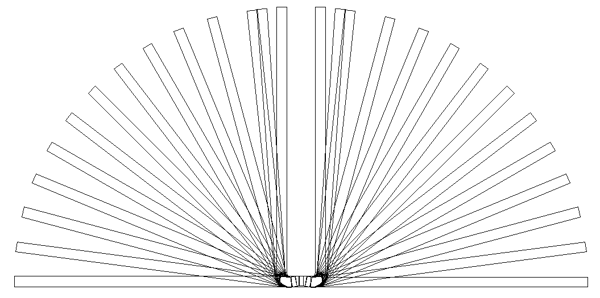 10. The metal part will run through a straightener before cutoff to remove any twist, bow, or camber. This step is absolutely necessary - these distortions can easily ruin a perfectly good part.
5. Cutoff & Discharge

11. The finished shape is cut to length in a flying cutoff press, which cuts the part to length without stopping the roll forming process. The flying cutoff press performs similarly to the slack loop at the beginning of the line. By accelerating the cut off die at the same speed at the roll forming mill, very accurate length cuts are made.
12. The part is discharged into storage bucks or roller containers.
6. Secondary Operations
If secondary operations are required, your manufacturer may be able to place those operations directly near the unloading end of the line. In the case of Dahlstrom Roll Form, certain secondary operations could be free if the cycle time to perform them is equal to or less than the time it takes for the next formed part to exit the line.
There are a wide variety of secondary operations available for roll forming, including:
Additional forming and notching
Secondary punching, or end bending
Adding additional components to kits
Minor assembly of mating parts
And that's how a roll formed part is made! It's not quite magic - just some good old-fashioned metal fabrication. If you're interested in getting your part on the line, contact us!
If you're interested in the cost of roll forming, check out these blog posts on the Costs of Roll Forming and Beyond Cost: A Comprehensive System.
Topics: OEM Roll Forming, Equipment, Processes, Roll Forming
RELATED POSTS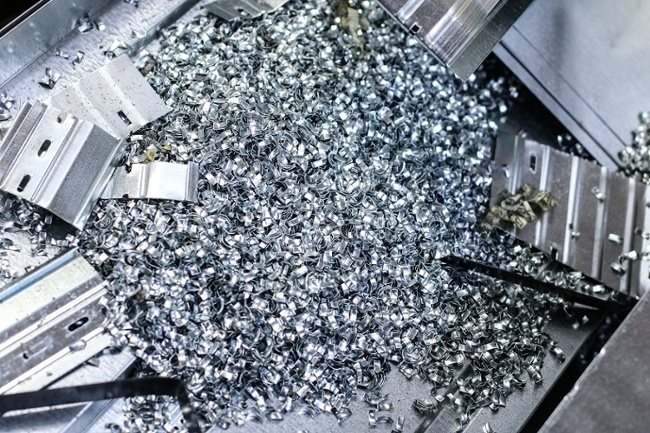 To manufacturers, a channel is one of the most simplistic shapes on earth. This helps explain why channels are a commodity product -- they're easy to make and extremely functional. As simple as a roll formed channel is, understanding C and U channel price factors is a little more complicated.

What Is U channel edge trim?
First off, a U channel is a tall, skinny, metal formed product. Deeper channels (a little deeper and more narrow than what you see above) can only be achieved through roll forming. Other forming methods can reach into the U shape as well as they can with standard[...]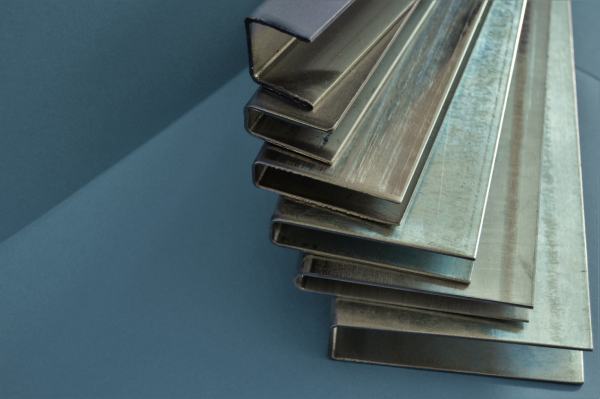 A great roll formed steel U channel can do wonders for your project's cost- and time-effectiveness. That's why we created MeshTrim.