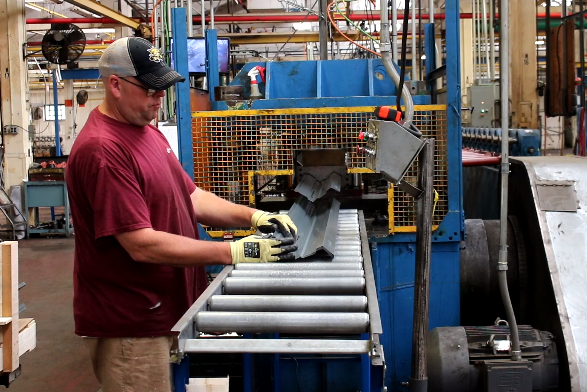 Are you always seeking to improve yourself and learn new things?
Are you looking for an employer who recognizes and rewards your knowledge?
You should consider a career at Dahlstrom.
Our 5 Year Plan
"Continuous improvement is part of our daily work presence. I am proud to say that 93% of our employees directly contribute continuous improvement initiatives on which we take action every year. We expect to see even more benefits as we continue to implement positive changes based on hard data analysis and customer feedback."
– Rob White, President
The career path and advancement opportunities at Dahlstrom are a new take on the traditional shop floor system.
Dahlstrom's 5-year training program is based on skill, not the number of years you've been with the company. If you can prove you know what you're doing, you get paid like it.
Our trainings are broken up into 6-month modules. Every time you complete one you get a raise. And you don't have to take the full 5 years to finish training. If you're committed, you can advance quickly.
At Dahlstrom, we invest in you because we see you as an important part of our business. We are committed to delivering the best customer service possible, so we practice lean manufacturing. That starts with skilled professionals on the shop floor producing high-quality parts.
What Is Lean Manufacturing?
Lean manufacturing is broadly defined as "maximizing productivity while minimizing waste" (anything not providing value to customers). Waste in lean manufacturing is:
Unnecessary movement of people, equipment, or machinery
Excess inventory
Waiting – either people or idle equipment
Over-production of a product
Over-processing or adding unnecessary features to a product
Defects that require costly correction
Unused talent and ingenuity
That "unused talent and ingenuity" is key – we don't want employees' talents going to waste. Continuous improvement is one of our priorities, and part of that is employee training and advancement.
Single-Minute Exchange of Dies
Single-Minute Exchange of Dies (SMED) is another piece of the lean manufacturing puzzle. To be lean, you have to be highly efficient in your processes. Every minute saved is savings for us and our customers.
SMED helps us shave off those precious minutes to improve lead time, reduce wasted manpower, and offer higher-quality service to clients.
5S Techniques
We practice the 5S techniques, which increase our company's profitability by improving performance, morale, and quality of work. The 5S are:
Sort, or simplify
Straighten, or set in order
Shine
Standardize
Sustain
These techniques make our shop floor safer by removing hazards and unnecessary items. They improve our communication and movement across work areas by decreasing clutter. And they increase our efficiency by reducing the amount of time spent looking for tools.
We're also Safety and Health Acknowledgement and Recognition Program (SHARP) certified, meaning we're recognized by OSHA for our exceptional safety practices.
Learn more about our shop:
Are You Ready for More?
We value our employees as an essential part of our business. Our employee benefits include:
5-year training program to get to top rate
Biannual performance-based wage increases
Boot and safety glasses allowance
401K contributions
Healthcare, vision, and dental insurance
Group profit bonuses


At Dahlstrom, we:
Find a Way – We are resourceful.
Deliver Legendary Customer Service – We go above and beyond to better serve our customers.
Are Relentless About Improvement – We consistently identify areas for improvement.
Keep Things Fun – We take our jobs seriously, but also have a little fun along the way.


Check out our Careers page for available positions.