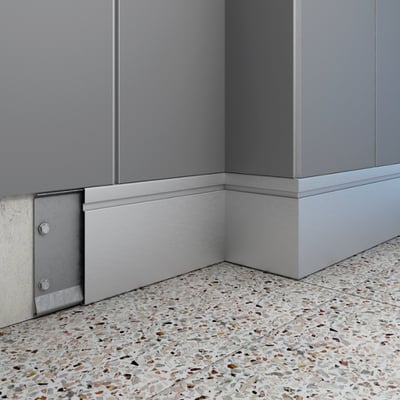 Architects are often frustrated when they see a finished installation of trim mouldings that have unsightly gaps. But what if you didn't have to cope or miter baseboard, and could buy pre-fabricated outside corners and coped inside corners straight from the factory? This is possible with our newly launched metal trim package -- ReveaLine.
Getting factory quality control right off the bat means you don't have to hope you have an adequately skilled carpenter on-site who knows how to cope a moulding made of metal. Even more, wouldn't you like to speed things up on site when the project inevitably reaches crunch time?


Solving How to Cope a Moulding? Look at Your Materials
For some time, the introduction of pre-fabricated buildings and building components has been growing in both commercial and residential construction. Unfortunately, currently available vertical corner protection is ugly and looks cheap.
The advantages of ReveaLine are clear:
Speed of on-site completion
Repeatable quality
Consistent raw materials
When it comes to CSI specification sections such as Decorative Metals, Mill Work, Doors/Frames/Windows, Finishes, and Specialties, the importance of speed and skilled on-site installation becomes even more critical. Why? Because these activities tend to be closer to the end of a project (aka "crunch time") and these components are more highly visible to architects, designers, and most importantly owners.
Hopefully, we all live in construction environments where quality and durability wins projects ... not the lowest bid, right? Low-cost bids unfortunately can lead to questionable quality of materials and installation skill. The end quality can vary, to say the least and the detailed eyes we posses as creative, visual people can really be strained on the final walkthrough!


The Solution: Seamless Baseboards & Other Trim
Metal trim kits that have ultimate durability, including pre-fabricated inside and outside corners, controlled under factory quality processes, using a concealed attachment system with no adhesive, sold for a competitive price. ... It's not just a dream anymore!
ReveaLine products are available in several options, each of which contain a high percentage of recycled content and have beautiful finish choices.

What would you rather have: factory-controlled quality, or an unknown level of quality you may get from an installer who doesn't even know how to cope a molding? ReveaLine uses a positive-locking backer plate to seamlessly anchor protective sections of trim in place for an adhesive-free installation.
There are certain key things that happen with cutting/joining trim in the field that necessitate a high skill level. Here is how we handle a few:
Coping cut baseboard trim (notching to allow two pieces to join at an inside corner) is certainly not easy. We use precision, computer controlled cutting machines that make sure the mating surfaces are perfectly matched. Our method of coping inside baseboard corners requires no pre-measuring of lengths and is flexible.


Mitered cuts (used to create outside corners) are also tough. Depending on the metal chosen, corner sections are welded, brazed, or bonded with structural, two-part epoxy. The resulting assembly is rigid, factory fixture aligned, and able to be hand bent in the field for minor "out of square" conditions.


Straight butt joints -- straight connections are locked in with wall clips assuring alignment and a tight draw to the surface being trimmed.


And ... a Need for Speed
Pre-fabricated metal trim kits can be field-finished using many metal protection systems, including paint. In this case, installing metal moldings takes about the same time as other traditional trim systems. An installer attaches the product, then a painter fills nail holes, leaves, comes back to prime, leaves, comes back for finish coat #1, leaves, and finally comes back for the final finish coat.
However, when utilizing factory applied finishes, red metals, stainless steel or aluminum (metals that age naturally and do no corrode), installation is a one-step, one-trade process using straight cuts only. Install, touch up, and go! And you can do it without using smelly, messy solvent adhesives or vinyl that releases vinyl chloride gas.


Other Features
This snap-on family of metal trim includes:
Baseboards
Chair rails
Casement
Door frame trim
ReveaLine is available in several metals, both luxury and budget-friendly:
Steel
Galvanized steel
Stainless steel
Bronze
Brass
Copper (We're loving that copper and brass are back in style!)
ReveaLine also has the same standard qualities customers expect from any metal moulding:
Class A equivalent
Won't scuff
100% recyclable
None of these features are possible with traditional wood mouldings. Instead, look to the most durable protective mouldings on the planet to protect your highest-abuse areas:

Airports
Stadiums
Public train stations
Elevator lobbies
Hospitals
First-floor office building perimeters
Anywhere else you expect your mouldings to take a beating


What Do You Want to See Next?
We're excited to hear how you're able to leverage this new, easy way to cope baseboard and other moldings. However, if you want metal trim moulding just as it was supplied 100 years ago, review our catalog and feel free to contact us with questions.
Many projects are underway now, and the creative uses for decorative metal are growing rapidly, so the catalog will continue to evolve. We enjoy hearing from designers what their needs are, so let us know what you want to see next!

If your squad needs more advice on how to connect baseboard moulding and other metal trim, check out the installation guide below: (Just remember, the base way to cope baseboard is to let the factory do it.)
(Editor's note: This article was originally published in May 2019 and was recently updated.)
Topics: Architectural & Design, Materials, Industry News, Architectural Mouldings
RELATED POSTS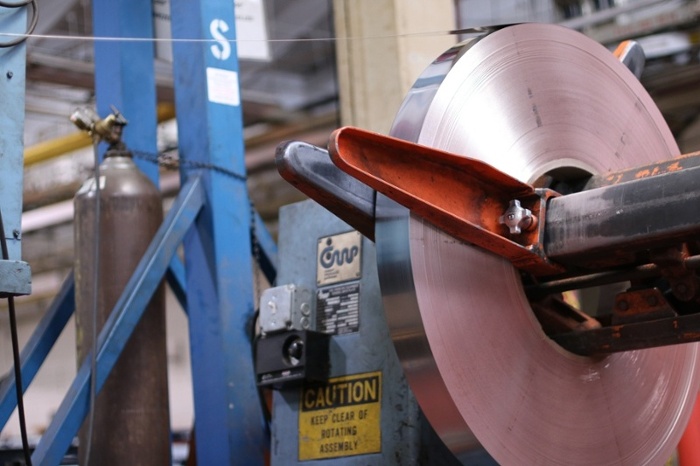 People not familiar with roll forming usually need some education regarding the machines' capabilities and limitations – even people who regularly work in sheet metal roll forming. There's a reason skilled roll form engineers are a coveted resource – this is complicated stuff.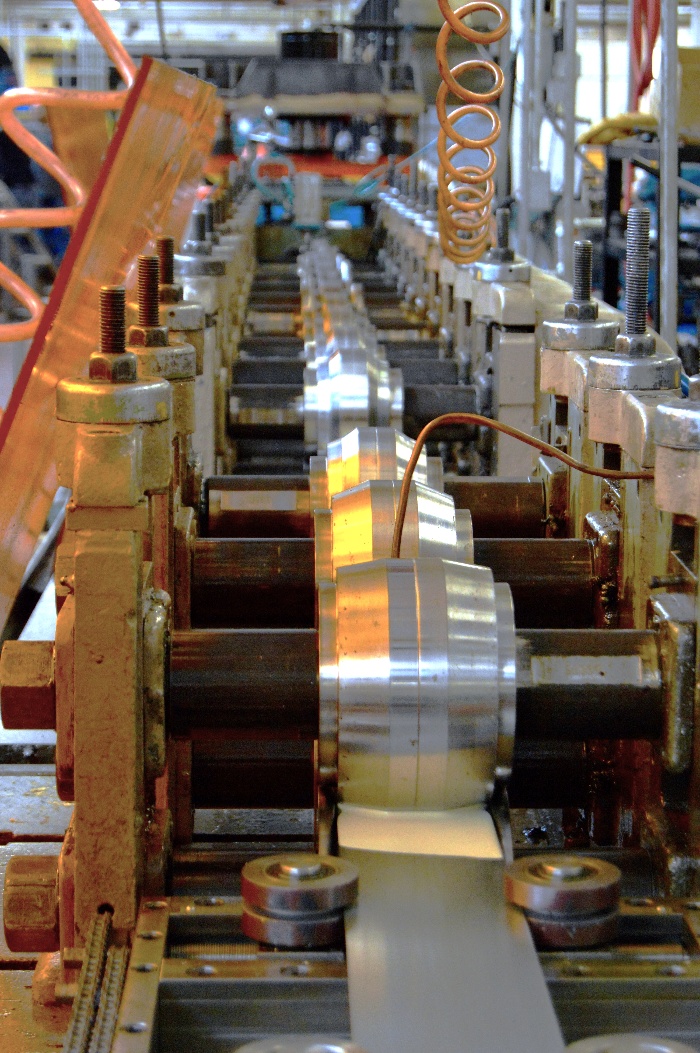 What makes a link in your supply chain "agile?"
To answer, look at your favorite examples of modern manufacturers and product developers. The ones that are anti-bureaucratic. The ones whose culture facilitates creative solutions for their customers.
Think of Tesla vs. a company like, say, General[...]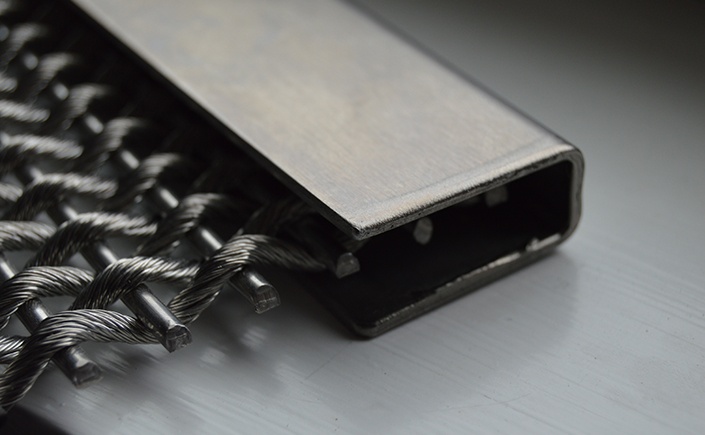 U.S. manufacturing has had its share of bad turns over the last 50 years, with entire industries being outsourced to other parts of the world. This is not good news for metal roll forming companies.
Starting with products like clothing and electronics, we gradually saw large corporations move[...]