Beyond Roll Forming Costs: A Comprehensive Supply System
We've talked about roll forming costs in our prior articles, Factors That Affect Roll Forming Costs and How to Reduce Roll Forming Costs. Today, we're looking at the total cost of ownership, not just the price of your parts.
By working with a company that optimizes every step of the roll forming process, you cut costs in ways that aren't directly related to the per-part cost. So, what are the TOTAL cost savings created by a comprehensive supply system?
Inventory Management
We've found that the most cost-effective style of inventory management is one of Kanban-based trigger-response. You give us the trigger information directly from the point of use (ideally from the people using the parts), and we respond based on our replenishment system design.
This management style works for both raw materials on our own production floor as well as your finished product inventories.
Product Inventories
The cycle starts with an estimation of yearly consumption (this estimation gets more precise and seasonal the longer we manage your inventory) divided by an economic order run quantity to figure out how many "bundles" should be in your system. Then, we ship and track amounts of those bundles (not so much individual parts) depending on trigger points indicated by you, the client.
Here's a scenario to illustrate:
You consume 1000 pieces a year, and we run the pieces four times per year - so, each run produces 250 pieces. We organize the pieces into bundles of 50 pieces each, which means there are always five bundles in the system.
We ship you three bundles to start. (Shipping only a portion of the product at a time helps you keep inventory at a minimum, and assists us in our tracking and distribution of product.) Every week, we will get a simple report from the department using the parts that states how many unopened bundles you have left in your inventory. For the first two weeks or so, that number is 2. As soon as you indicate you have only one unopened bundle left, that's our trigger. We immediately release two more bundles so you have three again.
If for some reason you indicate that your inventory is dwindling more quickly than usual, or you're not using as much as expected, we can adjust our output to meet your needs.
This point of use feedback system is the most accurate way to manage inventory. Other systems, like ERP, computer systems, and barcodes, are all viable - however, we've found there's too much room for human error or system failures. The trigger-response system is as close to foolproof as you can get.
Problems With Other Systems
With an ERP system, you might have a note that says you will use no more than three pieces of material for each unit manufactured. This sounds perfect in theory, but human error quickly gets in the way. People drop, scratch, and otherwise damage items all the time - and those instances often go unreported due to forgetfulness or fear of repercussions. So, more inventory is being used up without any documentation.
In these situations, it's very common for the manufacturer's personnel to go to a shelf in search of an item, only to find the inventory has been emptied. This misunderstanding of true consumption is an unnecessary waste of time and reliability for suppliers and customers alike.
With the trigger-response system, it doesn't matter if the personnel use a little more (or less) than expected - the only thing that matters for the consumption-replenishment cycle is how many unopened bundles are left on the shelf.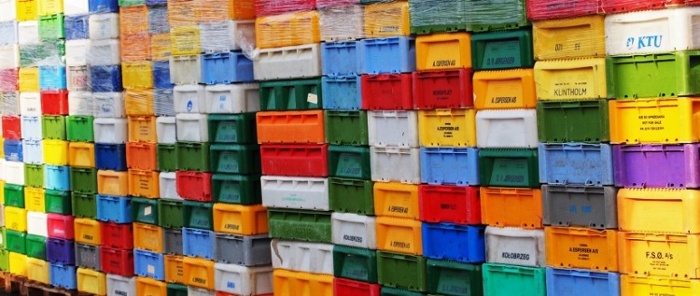 Raw Material Inventories
On our end, we use the same system of triggers and responses to make sure our coil inventories are correct. Wide master coils are slit into smallerrun coils; when we hit the run coil trigger at our steel supplier's warehouse, we order another master.
This system allows us to be more flexible when buying materials for clients. We don't hoard inventory, so we can quickly change gears if a client no longer needs a certain product. We can stay close to market pricing as well, rather than gambling with your raw material dollars.
Quarterly Reviews
To make sure you're getting the most out of our supply system, we sit down with you personally and discuss the results. Quarterly reviews are frequent enough to catch issues as they crop up, and make small changes for the next review. We want to know if anything is changing!
In particular, we like to make sure the inventory levels are spot on. We track all feedback from clients and, once a year has gone by, we can optimize for your activity levels in each quarter.
Also, we like to collaborate with our clients to plan the next materials purchase. We discuss how much we have in our inventory, how much you need, and what the market looks like for your material. Because it is a joint purchase, you can be sure that you're getting exactly what you need.
Other agenda items include changes in estimated annual volume, pending design changes, freight utilization, personnel changes, and cost saving ideas.
Quality Systems
Dahlstrom Roll Form is ISO 9001:2008 certified, uninterrupted since 1995. This certification indicates that our quality management system meets a certain global standard. Pieces of the quality system include:
On time delivery percentage (98.98% in 2015)
Field defect parts per million (1,432 in 2015 - six sigma level is 2,700)
Our customers enjoy the confidence that comes from quick delivery times and low PPM defect rate. We pride ourselves on this repeatable quality, and aim to protect our clients' interests by continuously optimizing these processes.
Safety
Aside from being ISO certified for quality management, we're also SHARP certified for our safety practices. SHARP stands for Safety and Health Acknowledgement and Recognition Program, and the certification is the highest recognition given by OSHA for exemplary safety practices.
By promoting safety for our employees, we also promote safety for our customers. Some of our safety precautions include:
Weekly housekeeping & organization audits - removing clutter and potential hazards from the workspace
Monthly safety training - we bring in a safety consultant to talk to the whole staff about general safety practices (lifting heavy things, hazardous chemicals, personal protective equipment, etc.)
Audited by the Department of Labor on a regular basis. This is a scheduled audit, and is required to maintain our SHARP certification.
Cross-Trained Workforce
Our personnel have a vested interest in the success of your product. All of our operators are paid by acquisition of skill rather than tenure - that means the faster they learn and the better their skills, the more they get paid. They have every reason to put out the best quality parts for you.
This program includes cross-training for different machines and client jobs. If something were to happen to the primary employee who runs your product, there is guaranteed to be another person who understands your tooling and part quality requirements.
That means your project will be on time, and you'll have no unexpected delays or costs for idle time.
Benefits of a Comprehensive System
To recap, when you work with a vendor who provides all of these systems, you get:
Reduced waste & optimized materials costs
Involvement & complete transparency in the buying process and other processes
Confidence in on-time delivery and part quality
No wasted or idle manufacturing time
Not all of these translate directly into monetary savings, but they can be just as valuable. The knowledge that your manufacturer is working to optimize all of your parts and processes is incredibly important to all of our clients.
Topics: OEM Roll Forming, Roll Forming, Cost
RELATED POSTS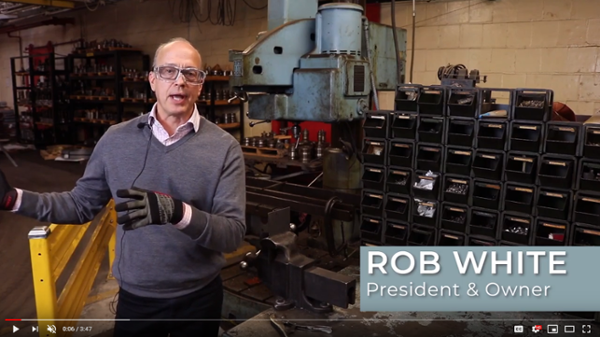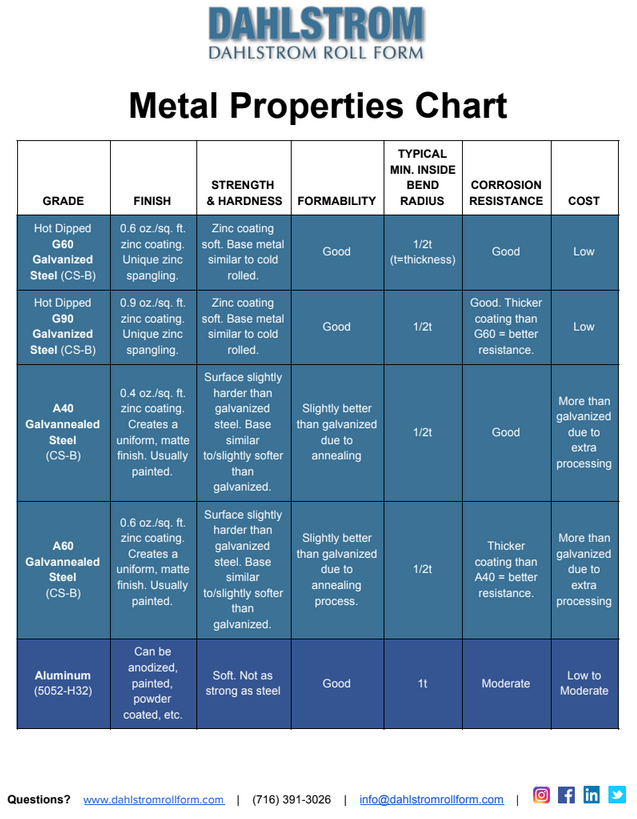 There are plenty of other metals (besides steel) that are used for roll forming. Some of the most commonly used metals include:

As with all manufacturing processes, the way you design your component impacts your overall costs, lead times, and quality consistency. Follow these roll forming design tips to avoid the common pitfalls of custom tooling and forming.