Steel windows boast a sleek, modern look. They've been used by architects for generations in numerous residential and commercial settings. But despite their beauty and longevity, we count only three (three!) active steel window manufacturers in the United States. Notably, one of those manufacturers did work on Bill Gates' house.
Steel windows are an underappreciated design concept for architecture. It's time we address this injustice.


Steel Window Designs: A modern beauty
Check out any contemporary style website or magazine. You may notice sleek, clean lines are well received within luxury home and commercial building designs.
Steel offers a modern, rich aesthetic that other materials --- like wood, vinyl or aluminum --- simply cannot replicate. Steel makes your design unique (memorable!) -- and capable of making a bold statement (rather than no statement).
Steel windows offer narrow sight lines -- perhaps their most striking feature. The amount of undisturbed light they let in can enhance the rest of your building, too, by inviting a warm, pleasant vibe to a room.
The modernized beauty of steel has shone through in more than just windows. Metal framing enhances the delicate aesthetic quality of glass architecture. Architects and home decor buffs have also used steel-framed panes in:
Shower doors
Safety barriers
Photo frames
This mighty material can either be solid or perforated, sculpted or austere, without sacrificing its strength or durability. This fosters extreme creativity and innovation in architectural design.
Steel can be coated to retain its original color, or it can be exposed to the elements to create a gradual color-changing effect. It's offered in numerous colors to match your personal preference.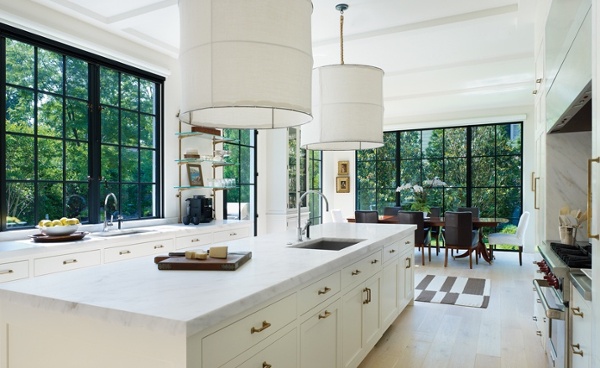 Note how this home in Bethesda, Md., radiates warm beauty -- not coldness, a trait many associate with metal. In the airy kitchen, steel-framed windows showcase views of the owners' garden. A wall of steel windows in the breakfast bay shows off a breathtaking landscape. Simply put, this look is for people who love views and natural light.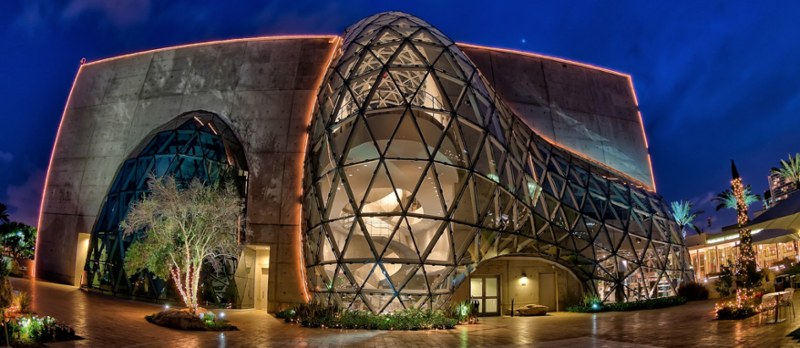 Salvador Dali Museum
On the more commercial end, the Dali Museum in St. Petersburg, Fla., stands out for its double-helix glass and steel elements. Glass and architectural metal come together to create a futuristic, surreal experience to match the namesake's art style.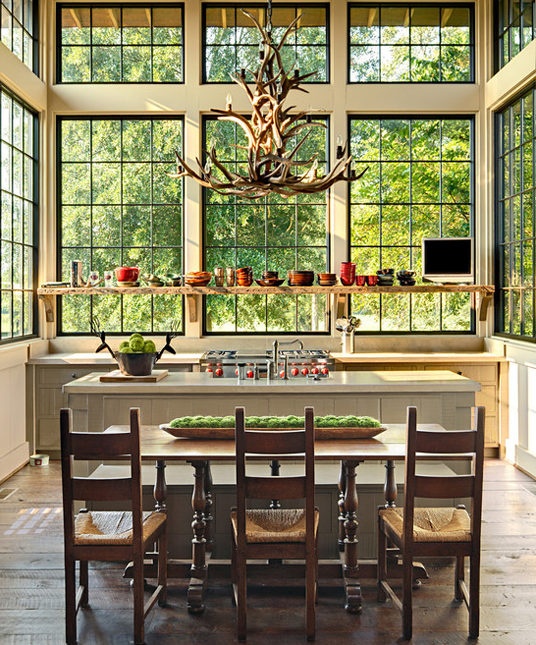 Steel windows don't necessarily dictate an industrial look for your home. In this example, they're used in a rustic farmhouse style with an Italian or French or Italian vibe. Others might see it as a hint of greenhouse ambience -- just look at all the light and scenery you get with thin sight lines.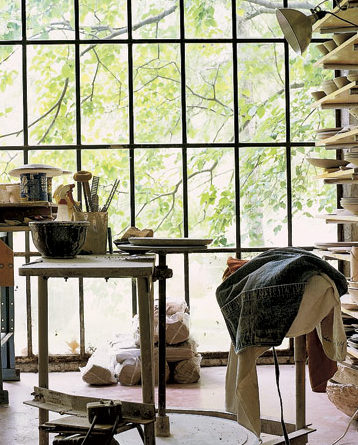 Pottery studio in Palisades, N.Y.
This ceramics studio was previously a farm's machine-repair shop. The floor-to-ceiling windows help create a space of peace and creativity.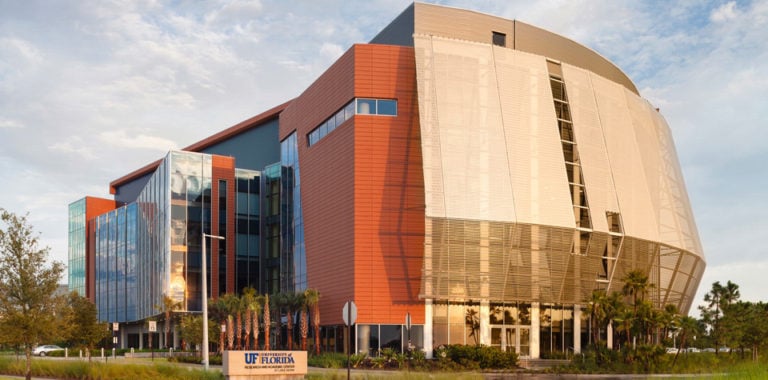 University of Florida Research and Academic Center
Like the nearby Dali Museum --- also a design by architecture firm HOK -- the University of Florida needs to be strong enough to withstand hurricane-force winds. The gorgeous glass structure is encased by a windstorm-resistant box that grounds the building.
Speaking of strong ...


Feel the power (and durability)
The minimalist visibility of steel frames and the wide-open views they allow are possible thanks to the incredible strength of the material.
Steel stands up to daily abuse -- hurricane-related or otherwise -- three times better than even aluminum. It won't scratch, dent, or corrode without a fight -- its ability to fight deformation is unparalleled.
Hardware fastened to steel windows will not pull out, and ventilators will not distort or rack as they get older.
In short, modern technology like metal pre-treatment processes and top coats enable manufacturers to produce windows that will require little to no maintenance.
We shouldn't forget they're pretty easy to clean -- and that's no small thing. The beauty of decorative steel trim or panels will shine through long after wood has decayed.


Where else does steel architecture beat wood?
We're glad you asked. Here are some other benefits of steel when compared with wood:
Less upkeep means lower costs in the long term. Similarly, metal forming processes are quite affordable -- especially in large volumes. It might surprise you to know steel is cheaper compared to wood when produced in large quantities.
Resistant to pests. It's going to take termites a long time to chew through metal.
Steel is recyclable. Today, almost 70% of all steel in the U.S. is recycled. Metals offer several other environmental benefits, including reducing deforestation.


Steel windows: A shiny, new opportunity
If you can afford them, steel windows are a great addition to your modernized look.
To recap, by choosing metal, you can:
Enhance views and natural lighting
Be cool, bold, and unique
Avoid excessive long-term maintenance
Keep them looking good as new with little effort


Topics: Architectural & Design, Materials, Architectural Mouldings
RELATED POSTS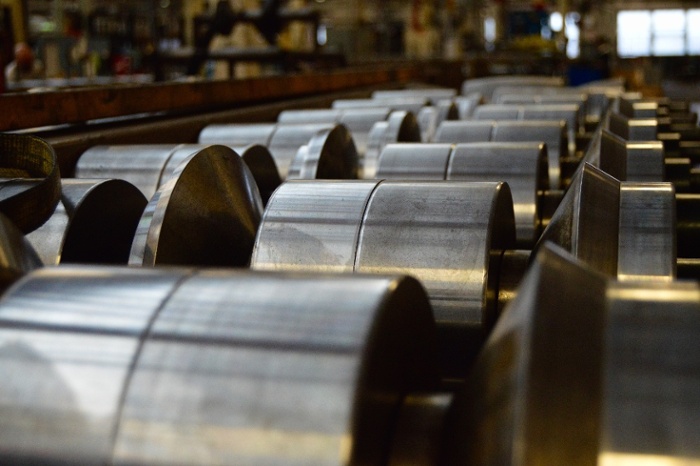 There are a lot of common misconceptions about roll forming metal. We're here to address four of the most common myths about the roll forming process:
Roll forming tools are "too expensive"
The cost "isn't worth it" unless you have super-high volumes
Roll forming "can't produce"[...]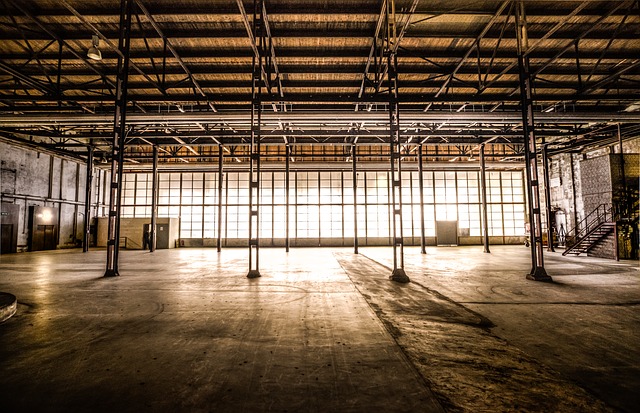 There's nothing new or mysterious about "just-in-time" or JIT manufacturing. The idea has been around since the 1970s, and all it means is that you receive what you need, just when you need it -- hence the popular term just-in-time delivery.
Yet, when it first came into practice, it shook up metal[...]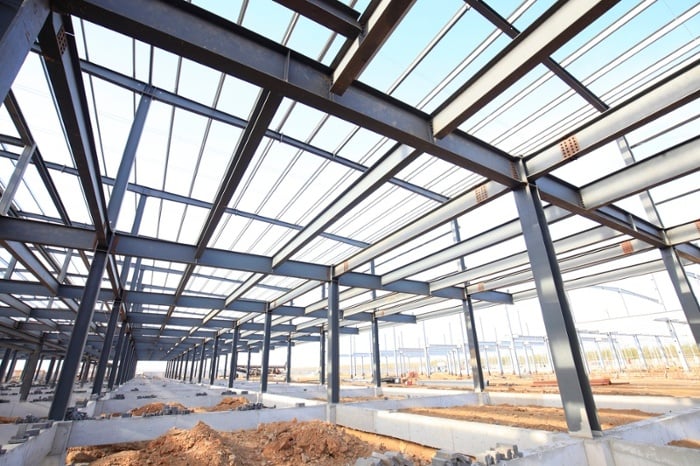 When you think about steel, you probably imagine it's pretty heavy, right? After all, something as strong as steel would have to be weighty due to its density.
Consider high strength low alloy (HSLA) steel.